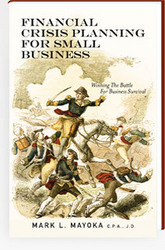 Financial Crisis Planning for Small Business: Winning the Battle for Business Survival
Minneapolis, MN (PRWEB) September 26, 2009
Today, just about every small business owner is feeling the effects of the current economic condition, but in the grand scheme, this financial crisis is relatively new. Not since the depression of 1929 have we been faced with the economic and financial hardships that are so prevalent today, yet financial planning practices have remained pretty much the same. It's time for a different plan. Mark L. Mayoka C.P.A., J.D. leads business owners into battle prepared with "Financial Crisis Planning for Small Business: Winning the Battle for Business Survival" (Two Harbors Press; August 2009; ISBN 978-1-935097-54-9; $14.95).
"If you are looking for financial planning and management in an economic downturn, look no further if you wish to emerge from this recession in a sound financial position, buy this book." - Donald S. Siegel, Ph.D Dean and Professor School of Business University at Albany, SUNY
All these basic issues that small businesses have been dealing with throughout the years have now taken on new meaning and need to be dealt with differently, due to the financial crisis. This easy to read and easy to apply manual was created and designed specifically to deal with financial planning in the current economic crisis. It provides step by step instructions for small business owners to prepare their business to survive and to prosper with proper financial crisis planning.
For more information please visit Financial Crisis Planning Online
About the author:
Mark Mayoka has enjoyed a long and distinguished career as one of New York's most notable Certified Public Accountants. Though he also obtained a degree from Pace Law School, Mark's main focus is serving as a CPA and business analyst. Mark writes his own financial advice monthly column in Cabling Business Magazine to help their subscribers cope with various facets of managing their business during the ups and downs of the current economy.
###