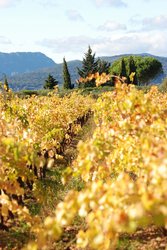 The flagship wine from this new venture is easily going to be the next great global cult wine. Think Clos Erasmus or Masseto; that's the level of quality that this wine brings.
Saint Saturnin, France (PRWEB) September 25, 2009
In 2000 and 2001, Robert Mondavi's plan to make one of the world's finest reds in Aniane, Languedoc, and subsequent battles with Aimé Guibert of Mas de Daumas Gassac prompted widespread debate in publications such as the New York Times, BusinessWeek, TIME magazine, The Wine Spectator, and as a subject of Jonathan Nossiter's 2004 Documentary, Mondovino.
Camps split between those who believed Mondavi's international reputation, partnerships with Château Mouton-Rothschild, and ownership of Ornellaia would reinvigorate the South of France, and those who took Guibert's Line ('How would New Yorkers like it if someone takes a chunk of Central Park and makes a vineyard there?')
Nearly ten years on from L'Affaire Mondavi, Andrew Jefford, writing in Britain's Financial Times observes:
"What 2009 suggests, though, is that some of the greatest vineyard land in the south of France did indeed lie close to hand - but not exactly where the Mondavis thought it did. That land could, moreover, have been purchased by the Mondavis without any need to battle Guibert...The name to look out for is Terrasses du Larzac"
As evidence of this he cites, "the astonishing wines of La Pèira" which he praises as "the finest new wines I tasted in 2008."
Jefford is not alone in such praise.
Writing in a recent issue of Robert Parker's Wine Advocate, David Schildknecht states the La Peira wines "need not fear comparison with any of the world's wine icons" and are among, "the very greatest wines of the Languedoc."
Others, such as Wine Library TV's Gary Vaynerchuk, have gone on record declaring:
"The flagship wine from this new venture is easily going to be the next great global cult wine. Think Clos Erasmus or Masseto; that's the level of quality that this wine brings."
While this domaine began its life in the much the same location Mondavi coveted (with the first wines vinified in a small stone building between the well-known Grange Des Peres and Daumas Gassac) it is far from being the work of a group of revered industry veterans.
As Jefford notes:
"This small, 11.6ha domain is the creation of one of the most unlikely Languedoc proprietors I have ever met: Rob Dougan. He's a dishevelled musician and composer of alternative bent who seems to have effaced his Australian origins almost completely in more than 20 European years. Together with his partner, a lawyer of French-Mauritian origin called Karine Ahton, he has created (with winemaker Jérémie Depierre and consultant Claude Gros) a range of wines of striking depth and originality yet great truth to place, too."
The efforts at La Peira form only part of that of a larger group of young domaines and ambitious vignerons, all determined to forge a reputation for the Terrasses du Larzac appellation by creating world class wines. Wines that can often be purchased at a fraction of the cost of those with a little more recent historic padding to their price tags.
For while the Romans first planted vines in the Terrasses du Larzac area, and it itself forms part of France's oldest viticultural region, the appellation was awarded as recently as 2004/2005.
The nomenclature share two villages with that of Roquefort - France's oldest and the world's first appellation in 1925 - and efforts here do much to persuade, not only that the idea of Appellation is still very much alive in 2009, but that France may indeed have a present and future informed by the spirit of inquiry that typified its past.
As Jefford's article concludes, "This is one of the most exciting regions of the world for wine quality."
The wines of La Peira are imported in the US by Eric Solomon Selections tel: +1 704 358 1565. http://www.europeancellars.com and in the UK by Berry Bros & Rudd http://www.bbr.com/, imported by Fields, Morris and Verdin +44 (0)20 7819 0360 http://www.fmvwines.com/
For additional information contact:
La Peira
UK: +44 (0)7734 103988 or roth (at) aol (dot) com
France: +33 (0)4 67 44 79 48 or dejerpierre (at) yahoo (dot) com
About La Peira:
La Peira is a wine domaine started in 2004 in the Herault region, Languedoc - committed to transforming the Terrasses du Larzac appellation and producing world-class wines. The domaine produces three reds (La Peira, Las Flors de la Peira, the entry level Obriers de la Peira) and a white (Deusyls.) The wines are available through Eric Solomon's highly regarded European Cellars in the USA through retail outlets such as Zackys, K & L Wines, Wine Library, and the Wine Exchange. In the UK the La Peira wines are imported by Fields, Morris & Verdin, noted importers of Bodegas Vega Sicilia, and Ridge Vineyards amongst many others, and its parent company Berry Bros. & Rudd.
For further discussion on this and other topics about the domaine please visit the La Peira Blog:
###