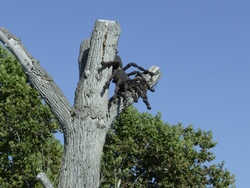 I wanted to make people aware of how interesting they are, how they really are good for the environment and unique to the mountains up here and really a lot of fun
Oakhurst, CA (Vocus) September 25, 2009
Coarsegold, CA (Vocus) September 24, 2009 -- While some people tend to run away from tarantulas, one small town in California's gold country celebrates them, and some people even embrace them just in time for Halloween.
Coarsegold originally started as a mining town in 1849, when large nuggets were found in a nearby stream. Since then, the city has made its living by ranching and, thanks to the numerous tourists that come through the area on Highway 41 in their way to Yosemite, tourism. Coarsegold holds its own for attracting tourists each October, however, as the small town pays homage to tarantulas.
The annual Coarsegold Tarantula Festival is a favorite event among locals and visitors alike, as they take part in numerous events all honoring this eight-legged denizen of the region.
"When we first moved here, I accidentally ran over a tarantula and was severely admonished by a neighbor," said Dian Boland, the founder of the event, now running strong in its 11th year. That incident inspired her to learn more about this misunderstood creature. The more she learned, the more she wanted to celebrate it. "I wanted to make people aware of how interesting they are, how they really are good for the environment and unique to the mountains up here and really a lot of fun," she said.
It's true that the city has built a cottage industry around the tarantula. A massive sculpture of one sits atop the city's Historic Village. Residents go out of their way to protect the creatures, as killing one is definitely considered a faux paux.
The festival has helped to increase the lifespan of area tarantulas as well, according to Boland. "I've had hundreds of people who say they spared the life of a tarantula because of the festival," she said. People are reporting they now gently move them from places they're not wanted, instead of resorting to a shoe or bug spray.
Numerous events take place as part of the festival, from a cheesecake contest, to a hairiest leg contest, with men and women's categories. "The girls at the Yosemite Bank who are our sponsors, it's their favorite thing. They can't wait to come down and see the thick, hairy legged men running around. To top it off, we have thick, hairy legged women too," Boland said with a laugh.
The highlight, however, are the Tarantula races. Locals come with what they hope is the fastest tarantula for the race. "It is amazing. We are very careful with them. You can bring your pet, but we ask if someone found one in the wild to take it back where they found it once the race is over," Boland said.
The races consist of heats of ten tarantulas making their way through a dryer tube, with a handler at each end. "People get really excited with the $50 gift certificate and trophy up for grabs," said Boland.
Other competitions and events include a pizza eating contest, a Trick or Treat parade for kids, poetry contest and a "scream off" where vociferous competitors, or perhaps horror movie victim wannabees, can see who has the most blood curdling scream. "It's all a lot of fun for the whole family," said Boland.
For more information, visit http://www.yosemitethisyear.com and click on the calendar of events.
###