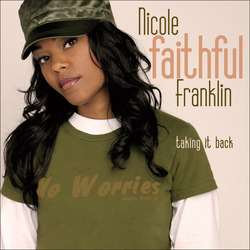 I went through a lot to come out and tell about it. Jesus delivers! He still heals. He still saves and absolutely nothing or no one is to hard for GOD to turn around for the good, for his Glory, for his name sake!
New York, NY (PRWEB) September 28, 2009
In popular music there are multitudes of performers that come and go, while we look for that flash of brilliance to break the monotony of currents trends. On Tuesday, September 29th that shining beam of light arrives in the petite but powerful form of Nicole 'Faithful' Franklin and her Debut CD, Taking It Back (Living Water Records/Thank You Entertainment/Fontana/Universal). Nicole's brilliant praise and worship leadership serves up as a vigorously musical main course, garnished by perfect holy background voices, with down to the soul lyrics and ground breaking hip hop inspired production. Not since the emergence of super music talent, Kirk Franklin, has there been an inspirational voice on the music scene that will transcend musical boundaries. Taking It Back is a revelational album that marks the arrival of a major new talent!
Nicole "Faithful" Franklin, a multifaceted Inglewood, California raised Rapper, Songwriter, Producer, Director, Choreographer and now new Gospel/Praise & Worship Recording Artist began her career in the music industry as a young choreographer, DJ and side kick to the memorable and talented late female Hip Hop artist, MC Trouble. Faithful showcased her creative and skilled dance talent by appearing on several popular television shows and tours at the time with MC Trouble. Her work with MC Trouble later lead to numerous choreography opportunities for Faithful on such programs as the Nickelodeon Kid's Choice Awards, The David Letterman Show, The Parkers Show and The European MTV Awards. Faithful also was called upon to work on projects with celebrities such as Whitney Houston, LL Cool J, and Boyz 2 Men, to name a few. Soon after, Franklin signed a solo recording agreement with Streetlife/Scotti Bros. and recorded under the name of Nikki Kixx. The first single, "What U Do 2 Me" reached Billboard's Top 20, receiving heavy rotation on BET and the BOX.
Franklin also fulfilled a life long dream of working in television and film by serving under the tutelage of top film directors like F. Gary Gray and Paul Hunter, which led the talented artist to working with extraordinary talents, Jada Pinkett-Smith, Queen Latifah, P. Diddy, Mary J. Blige, Mariah Carey and Nas, to name a few. Franklin's directorial debut of Things Not Seen which she wrote, produced and directed received rave reviews as a ground breaking short film. After key serious trials and tribulations Nicole rededicated her life back to Christ and would eventually answer her call to minister.
"I went through a lot to come out and tell about it. Jesus delivers! He still heals. He still saves and absolutely nothing or no one is to hard for GOD to turn around for the good, for his Glory, for his name sake!" says Faithful. Faithful currently serves as Youth Minister at her church home in California.
The rockin', head bobbin' inspirational Gospel, Praise & Worship, Hip Hop crafted first single, "Purpose and Destiny"(written and co-produced by Nicole Franklin with Producer Qura Rankin) will be released to Contemporary Gospel/Urban Music radio stations in June. The album is scheduled for release, Tuesday, September 29th. With the aid of Veteran Record Producer and Executive, Kevin Evans, CEO of Thank You Entertainment, this amazing young woman is blessed with an electrifying worship leader presence with a positive voice that ranges from the passionate to powerful on this eclectic blend of gospel, praise and worship, inspirational hip hop classic album offering.
Taking It Back is an album that will illuminate all aspects of Faithful's persona. This young performer's talent will transcend musical boundaries, as she glides effortlessly in songs, "Purpose & Destiny" (the targeted first single) and "Taking It Back", the title song from the CD. Faithful penned the lyrics and Co-Produced along with Producer extraordinaire Qura Rankin (Christina Aguilera, Fabulous, Donnie McClurkin and Mike Post) on Taking It Back and showcases a unique and exciting talent on such songs as the hip hop flavored "Beautiful" and "Who You Rollin With." Faithful arises to the occasion, exhibiting the poise and stage prowess of an already established Gospel/Praise and Worship Recording Artist. Taking It Back is a revelation album that marks the arrival of a major music talent on the scene.
Living Water Records along with Thank You Entertainment is currently planning appearances for Faithful at several major conferences this fall, as well as a multi-city promo tour to include teaching and ministry appearances to introduce the talented Praise and Worship Leader into the music market. Faithful will visit contemporary gospel and urban radio stations, conduct newspaper and magazine interviews, as well as appear on key television Morning shows on ABC, CBS, NBC, FOX affiliates in each market.
For more information on Faithful & Living Water Records, please visit and watch Nicole on her EPK at http://www.nicolefaithfulfranklin.com/
Priscilla Chatman
Press Rep. for Nicole 'Faithful' Franklin
PSI North-South Partners, Inc.
ww.psinorthsouth.com
941-408-9530 (T)
###