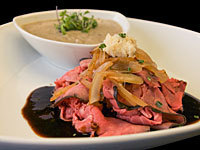 Being able to talk to a real dietitian at no extra cost makes our program unlike any other.
Naples, Florida (PRWEB) September 29, 2009
Health, a popular women's health and lifestyle magazine, named Bistro MD "Best Diet Support" in September's issue. The article, which is a comparison of popular meal delivery companies, highlights Bistro MD's big portion sizes and impressive taste. The program revolves around a 1,500-calorie plan designed by bariatric physician Caroline Cederquist, M.D., based on her practice with overweight patients.
The diet meal delivery industry has grown substantially in the past decade thanks to busier lifestyles and more health-conscious consumers. Bistro MD's Chief Operating Officer Dick Bruno says that it all comes down to results. "People on our program lose weight, and that's what drives our business," he says. "Customers are happy because they can see the difference."
Dieters on one of Bistro MD's programs are supported not only by the strict caloric plan, but also by the company's accessible team of dietitians. Registered dietitian Christina Shatlock, head of Bistro MD's nutrition support team, says interaction is key, "Being able to talk to a real dietitian at no extra cost makes our program unlike any other."
This is an attractive feature to many dieters because informed nutritional advice doesn't usually come cheap. Bistro MD customers don't have to factor in the cost of a nutritionist to meet their goals. "There are educated, experienced people on the other end of the line who want to help you reach your potential," Shatlock says.
That potential is reached differently with Bistro MD's diet plans. The company operates with the knowledge that many Americans have tried several diets they didn't like. "Bistro MD hopes to be the plan consumers stick with and actually enjoy," Bruno says. Gourmet dishes like Blackened Tilapia and Sirloin Steak served in generous portions are what customers and Health magazine agree make dieting easier.
Paulette Viviano, Bistro MD customer and successful dieter comments, "I feel like I am eating more than I ever did. I am not starving myself to lose weight, I am not deprived, I am never hungry."
Headquartered in Southwest Florida, Bistro MD (http://www.bistromd.com) has been recognized as a top diet food delivery service on national television shows such as Dr. Phil and news outlets including The New York Times. Dr. Cederquist has appeared as a weight-management expert on various shows, as well as the contributing medical editor on NBC Ft. Myers for the past five years.
Bistro MD offers gourmet diet meals delivered to customer's home. Each dish is designed by the founding doctor and prepared by trained chefs. The company has become a leader in diet meal delivery by offering quality food and customer service in a convenient manner. Bistro MD also specializes in diabetic meal plans, senior meal delivery, and vegetarian meal plans.
Read Health magazine's full article on diet food delivery programs by visiting Health magazine online.
###