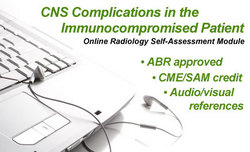 I was very happy to work with Oakstone to develop this self assessment module. Their web interface makes the module easy to navigate, giving instant feedback about the correct and incorrect answer choices. The audio and video references with the answers are a unique feature, giving an opportunity to learn even more with a single click
Birmingham, AL (PRWEB) September 30, 2009
Oakstone Medical Publishing announces the launch of the ABR-approved radiology online self-assessment module, CNS Complications in the Immunocompromised Patient. Featuring case scenarios with assessment items and audio/visual references to enhance the learning experience, this module offers radiologists a unique way to assess their knowledge in neuroradiology.
In this one-of-a-kind experience, testing scenarios are presented with accompanying images and assessment items, as well as relevant audio and visual references, engaging users and enhancing the learning experience with multimedia options not available on most other self-assessment modules.
"I was very happy to work with Oakstone to develop this self assessment module. Their web interface makes the module easy to navigate, giving instant feedback about the correct and incorrect answer choices. The audio and video references with the answers are a unique feature, giving an opportunity to learn even more with a single click," said Ritu Shah, M.D. Assistant Professor of Radiology, Division of Neuroradiology, University of Alabama at Birmingham (UAB).
The self-assessment module, CNS Complications in the Immunocompromised Patient, includes: Five case scenarios, with accompanying images and multiple-choice questions; immediate feedback comparing your responses with those of your peers; solution-based narratives from award winning faculty with expertise in web-based training; supporting audio and video to enhance and deepen learning; and electronic submission for claiming CME credit with immediate documentation for reporting SAM participation.
What's more, CNS complications in the Immunocompromised Paitent is qualified by the American Board of Radiology in meeting the criteria for self-assessment toward the purpose of fulfilling requirements in the ABR Maintenance of Certification Program.
Oakstone Medical Publishing offers non-biased medical education materials in more than 200 programs across 40 specialties. Available in multi-media formats, the journal review and clinical review products allow medical professionals a convenient option to stay current with the changing face of their field. Oakstone Medical is a division of Oakstone Publishing, a company that excels at providing non-biased continuing education and certification for physicians and dentists, and effective wellness resources and services for organizations interested in encouraging healthy lifestyle choices among their employees. For more information about our medical products, go to: Oakstone Medical or CMEinfo.
###