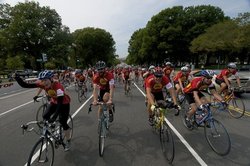 With the ACES bill hitting the Senate floor and the upcoming COP15, now is the time for decisive action on climate change
New York, NY (PRWEB) September 25, 2009
Washington, D.C. -- The 2nd annual Brita Climate Ride is set to see 140 cyclists pedal from New York to Washington, D.C. from September 26-30, 2009. The 5-day, 300-mile cycling adventure is designed to raise awareness of climate change and renewable energy, while inspiring and empowering Americans to work toward a green energy future.
"With the ACES bill hitting the Senate floor and the upcoming COP15, now is the time for decisive action on climate change," said Caeli Quinn, co-founder and director of Climate Ride. "The point of this ride is to make some noise that it's time to change the way we do business. Climate Ride is designed to bring climate experts, activists, and the general public together to learn, exchange ideas, and inspire each other to work together…all while powering themselves on bicycles."
Brita Climate Ride 2009 kicks off at the Central Park Zoo in New York on September 25 from 5:30 to 8:30 p.m. Denmark's Secretary of State, Per Stig Moeller, and NASA scientist Dr. James Hansen will wish the riders well on their journey. The Zoo's polar bears, Gus and Ida, members of a species directly affected by climate change, will be on-hand as well.
The ride begins the following morning, Saturday, September 26 at 8:30 a.m. at the corner of 5th Avenue and 59th. After a beautiful pedal through Manhattan, riders will board a ferry with their bicycles before continuing the ride in rural New Jersey.
Brita Climate Ride features world-class cycling and a diverse expert speaker series each evening that is open to the public. Speakers include:
· Green athletes Alison Gannett, US Champion freeskier, and Roz Savage, the first woman to row across the Atlantic and Pacific Oceans
· Eco-adventurers like Colin Beavan, aka "No Impact Man," whose new movie and book of the same title are in theaters and bookstores now
· Scientists and researchers like Dr. Ben Strauss, who studies climate change communications
· Denmark's Ambassador to the US, who will discuss the upcoming COP15 conference in Copenhagen
· See the complete speaker series at http://www.climateride.org/speaker-series.html
Climate Ride is the greenest multi-day charity ride in the country. Support vehicles are hybrids or run on veggie oil. There is virtually no disposable plastic waste on the ride--Climate Ride uses reusable plateware and cups. Title sponsor Brita provides filtered water and reusable water bottles. Thanks to Clif Bar, all emissions for support vehicles and travel to and from the event are offset. Furthermore, 140 cyclists traveling by bicycles rather than by cars reduces 50,000 of lbs. CO2 from entering the atmosphere.
Climate Ride ends with an open bike rally on the U.S. Capitol. Hundreds of supporters will gather to pedal the last 3 miles and then rally with senators, representatives, ambassadors and non-profit partners on the Capitol West Lawn. You can follow the tweets, YouTube videos, blog posts and photos live as Climate Ride travels from NYC to DC at http://www.ClimateRideLive.org.
Registration is now open for Climate Ride California. Due to popular demand for a Climate Ride on the West Coast, the Climate Ride organization has scheduled a new ride from May 15-19, 2010. This 5-day, 320-mile 'green conference on wheels' will begin in San Francisco, meander through the California Wine Country, and culminate at California's Capitol in Sacramento. Registration is now open at http://www.climateride.org. Climate Ride is in the process of increasing its number of beneficiaries for this new charity ride.
The 2009 ride event raises funds for three hardworking non-profits, Rails-to-Trails Conservancy (DC), Clean Air-Cool Planet (Connecticut) and Focus the Nation (Oregon). Climate Ride is the first charity bicycle tour where cyclists raise money and awareness of climate change and hope for a future powered by renewable energy and a green economy. The ride offers people who share a passion for green living and cycling a chance to journey toward making a difference.
Like the Climate Riders, Brita, once again the title sponsor, is dedicated to making the Earth a greener place. Thanks to Brita there won't be any empty bottled water containers along the route; the riders are supplied with Brita filtered water in special FilterForGood bike bottles. To learn more about Brita's efforts visit http://www.filterforgood.com. Climate Ride also endeavors to show that the bicycle is the ultimate carbon-free machine and a viable form of transportation. Each Climate Rider fundraises at least $2,400 to participate.
About Climate Ride
The Climate Ride organization was founded to raise money for innovative organizations that are working to educate Americans about the impacts of climate change and engage them in the possibility of a green economy. During the first event in 2008, Climate Riders represented 30 states and a variety of cycling abilities from novices to competitive cyclists. For more information, please visit http://www.climateride.org. Videos, photos and blogs can be viewed at http://www.climateridelive.org. For more information or to support a participant, please visit http://www.climateride.org or call 406.871.5477.
Media Contact: Caeli Quinn, Executive Director, 406.871.5477 or Blake Holiday, Ride Director, 831.359.2786
# # #