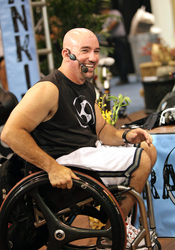 We will ask these facilities and others to move forward with us in making inclusive fitness a reality not only for participants but for fitness instructors
Delray Beach, FL (PRWEB) September 28, 2009
Project VisAbility has been established to advance inclusiveness in the fitness community by facilitating the hire of qualified persons with physical disabilities to lead and teach group exercise classes. The new non-profit organization encourages skilled and enthusiastic people with physical disabilities to become certified instructors then links them with facilities that are seeking motivating, qualified fitness instructors.
The Project VisAbility initiative came from KrankcyleRx, which markets a unique piece of exercise equipment that is inclusive for almost every level of physical ability. The Johnny G Krankcycle by Matrix is the latest innovation from Spinning® creator Johnny G, who was inspired by his experience at an event benefiting challenged athletes. Krankcycle's universal design is fully wheelchair accessible and allows people with physical disabilities to participate fully in group and individual exercise programs alongside everyone else, with no modifications or adjustments necessary. Instructors may use the Krankcycle as a tool for leading both upper-body cycling (Kranking™) and lower-body cycling, Spinning classes, or combinations of both.
Debbie Miller, chief executive officer (CEO) and president of Project VisAbility, was part of the original Spinning team, and helped put Spinning into the 30,000 facilities worldwide where it exists today. "We will ask these facilities and others to move forward with us in making inclusive fitness a reality not only for participants but for fitness instructors," said Miller. "The Project will assist skilled and motivated people with physical disabilities to get the necessary training and certification, and then link these individuals with fitness programs seeking qualified instructors."
The public is familiar with inspiring stories of people with disabilities who become Paralympic medalists, long distance racers, Ironman competitors, adventurers who climb the highest peaks or circle the globe with their hand cycles. Making inclusive fitness programs a reality requires moving beyond inspiring stories to community-level visibility.
Club One Fitness is one of the first health clubs to join Project VisAbility, and is ready to take action. According to Jim Mizes, CEO and president, "Club One has supported the Challenged Athletes Foundation for over ten years. Now with the Krankcycle and Project VisAbility, we look forward to hiring capable, physically challenged instructors to lead our cycling and Kranking classes. Creating 'inclusive fitness' classes and facilities will inspire all for a greater good."
Jim Karanas is the Chief Fitness Officer for Club One Fitness, and the CEO and president of the Johnny G College of Knowledge, which will provide instructor education. "The motivation and inspiration of having an indoor cycling class taught by a capable instructor in a wheelchair using a Krankcycle is tremendous," he said. "When these instructors tell you to push past the challenge, they know what they're talking about in a very real way. Who isn't going to put out their best effort with that encouragement?"
About Project VisAbility
Project VisAbility promotes and advocates inclusive fitness at the highest, most visible level by working to provide jobs in the areas of health and fitness for those with physical challenges. We seek to link gyms that are committed to this idea with motivating, qualified instructors. By enabling and encouraging inclusive exercise for people with physical disabilities, we seek to inspire joy and celebrate achievement. Project VisAbility welcomes help in a variety of ways through funding, donations, club partnerships, sponsorships and volunteer assistance. For more information, please visit Project VisAbility. For information on the Johnny G Krankcycle by Matrix, please go to Johnny G Krankcycle by Matrix
Project VisAbility is a non-profit organization. Application for tax exemption under Section 501(c)(3) of the Internal Revenue Code is currently pending with the Internal Revenue Service.
###