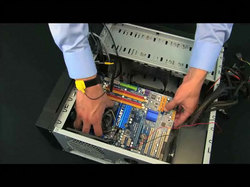 Tampa, FL (Vocus) September 28, 2009
K Alliance recently announced that CompTIA A+ training covering CompTIA's A+ 2009 certification is now available. According to CompTIA's Website, the A+ 2009 Edition is the latest version of its A+ certification requiring the successful passage of two certification exams: CompTIA A+ Essentials (220-701) and CompTIA A+ Practical Application (220-702). While the CompTIA+ 2006 edition remains relevant and in use today, many IT professionals will want to have the most current A+ certification available. CompTIA has also released an A+ 2009 Edition Bridge Exam (BR0-003) for existing A+ 2006 Edition certificate holders who want to upgrade their skills to the 2009 Edition.
CompTIA updated the A+ certification for two primary reasons. The first reason is to ensure that IT professionals who have earned the A+ 2009 certification have current technological skills relevant to the technologies in use today. In addition, in order for the A+ certification to maintain its ISO-17024 accreditation, it must be reviewed and updated every three years.
The new A+ certification requires candidates to have at least 500 hours of hands-on lab or field experience and basic skills such as computer technology skills, networking skills, security skills, and communications skills. Beyond the basics, CompTIA A+ 2009 candidates must be able to apply those skills under a variety of practical applications and scenarios. Troubleshooting and problem solving skills are also required.
Many of these entry level computer technology skills are learned on the job. However, with two examinations to take and pass, A+ candidates must prove that they have the required technical abilities. K Alliance videos cover all exam objectives so that A+ 2009 candidates have the knowledge and skills necessary to succeed in the exam room as well as in a technical environment. Certified instructors show trainees each A+ step through a series of self-paced training videos.
A K Alliance spokesperson said that these videos will be bundled with Countrywide Training's A+ boot camp classes. By teaming up with K Alliance, Countrywide Training is able to extend its boot camp curriculum and ensure that trainees are receiving the updated A+ skills that CompTIA now requires.
The new A+ 2009 edition is here and so is the training required in order to obtain it. In addition to training entry level A+ candidates, K Alliance videos can also help existing A+ 2006 Edition certificate holders prepare for the CompTIA A+ 2009 Edition Bridge Exam.
About K Alliance:
K Alliance is a leading producer of online IT training videos that enable IT professionals to participate in instructor-led training and prepare for certification by watching videos. Now that CompTIA A+ 2009 training has been released, exam candidates have a convenient choice for preparing for the two required certification exams.
Contact:
Gregg Burnett
VP of Business Development
K Alliance, LLC
Toll: 1-800-330-9111
Web: http://www.kalliance.com
# # #