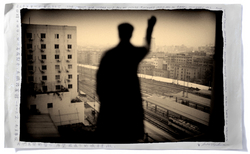 the positive triumph of the human spirit
Hong Kong, SAR (PRWEB) September 26, 2009
Fine art photographer André Eichman launches his light-heart and affectionate tribute to China's iconic Chairman Tse-Tung with a photographic exhibition to the 'Great Helmsman' starting from 27 September to 16 October at The Foreign Correspondents' Club, Hong Kong.
This 1 October 2009 marks the 60th anniversary of the founding of the People's Republic of China. The occasion will be celebrated nationwide with events focusing on the glory of modern China and the legacy of Chairman Mao.
Mr. Eichman's 'The Chairman and I' is a photographic documentary that was six years in the making, taking him on his own personal 'long march' the length and breadth of China, capturing a unique perspective of Mao and his affect on modern China.
Traveling throughout China armed only with a 'kitsch yet cute' little Chairman Mao statue and his camera, Mr. Eichman photographed and interviewed people from all walks of life. The result is a unique insight into the lives of the Chinese people, their thoughts about Chairman Mao and how the transformation he revolutionised has affected their lives.
According to Mr. Eichman, talking to the Chinese people about the Chairman and their views on where the country was heading gave him a unique window into modern China.
"Wandering around China for so many years with the Chairman statue at my side led me down roads I would never have taken, and allowed me the privilege to meet so many different people along the way.
"It started out as a light-hearted project that suddenly changed direction one night whilst I sat and listened to General Gu Ping who was the bodyguard of Premier Zhou Enlai's wife during the Long March. He moved me with his stories about hardships on the Long March during that arduous journey. I sat there transfixed by the General's every word as it was translated through one of my father's co-workers," he added.
Whether seen as positive or negative, the legacy of Chairman Mao is undeniable. Still to this day he continues to touch the lives of everyday Chinese people, whether they wanted to experience his influence or not, and his resonance still echoes throughout China.
Modern China is a far cry from what he had envisaged, and the Communist Party has changed dramatically since the organization was set up all those years ago. Sixty years on, André Eichman captures a picture portrait of a changing China that is compelling, thought provoking and affectionate both towards the country and its over 1.3 billion people. All photographs are limited editions and are for sale. Mr. Eichman will also be launching a limited edition book with quotes and images from his journey please refer to http://www.thechairmanandi.com for further information.
'The Chairman and I' an exhibition by André Eichman- 27th of September - 16th of October The Foreign Correspondents' Club, Hong Kong, North Block, 2 Lower Albert Road, Central. Tel: (+852) 2521 1511
30th September private showing, 27th September - 16th October public viewing; 10am - 12pm, 3pm - 5pm. Please register at the door before the event.
About André Eichman:
André Eichman is a fine art documentary photographer who has been documenting humanity for more than 25 years. André studied fine art in San Diego where he developed a passion for photography. He then specialized in fashion photography for the first 10 years of his career focusing on high profile fashion shoots with Vogue, W Magazine, Eve, and Style Magazine. His work took him to New York, London, Paris, Thailand, and all over Asia. André's first love has always been documentary photography, and his travels enabled him to pursue his love of reportage. André eventually returned to focusing solely on fine art documentary photography. His work has appeared in the Sunday Times Magazine, Royal Geographical Magazine and Wanderlust, concentrating on "the positive triumph of the human spirit". André has produced solo shows in New York, Tokyo, Hong Kong, Singapore and California, and his work is now prominently featured in many private collections around the world. A collection of his work can be viewed at http://www.andreeichman.com
Mob: (+852) 68027795
###