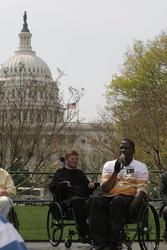 If there's anything Chris Reeve taught me, it's that you can't give up
Short Hills, N.J (Vocus) September 26, 2009
As the family, friends and fans of Christopher Reeve commemorate the late star's 57th birthday today, another disabled actor takes a giant step forward in showing America—and the world—that there is life after paralysis. Tonight, Daryl "Chill" Mitchell, an ambassador for the Christopher & Dana Reeve Foundation and its Paralysis Resource Center (PRC), will take center stage on the premiere of FOX's "Brothers," alongside Michael Strahan, CCH Pounder and Carl Weathers. The series will premiere in a special hour-long telecast at 8/7 Central tonight.
Born in the Bronx, raised in Long Island, N.Y. and now a resident of Atlanta, Ga., Mitchell first came to the public's attention as a member of the three-man rap group Groove B Chill. A music video made to accompany the group's new album quickly led to an acting career, beginning with the feature film "House Party," and later on, among others, "Galaxy Quest" and "Lucky Numbers," as well as "The Fresh Prince of Bel Air," "Law & Order," and as a series regular on "The John Larroquette Show," "Ed" and "Veronica's Closet." In November 2001, Mitchell was involved in a motorcycle accident, which left him a paraplegic and paralyzed from the waist down.
"If there's anything Chris Reeve taught me, it's that you can't give up," said Mitchell. "When I was on NBC's 'Ed,' my character used to say 'Roll or Fold.' That's exactly what I hope to show others with paralysis, not just through this show, but through my work with the Foundation and the PRC.
"There are a disproportionate number of African-Americans living with paralysis, as the Foundation's recent survey showed; about 17 percent when compared to a little over 12 percent of the American population that's African-American. More than anything, I want them to know that they need to keep going, and I've personally experienced how the PRC can help you do that."
"We're extremely proud of Chill's success," said Joe Canose, Vice President, Quality of Life for the Christopher & Dana Reeve Foundation. "He's a great example and role model to those who live with paralysis. When people like Chill succeed despite tremendous odds, it brings a tremendous message of hope to all of us, but especially to those who really need it."
Located in Short Hills, N.J. and Westlake Village, Calif., the Paralysis Resource Center (PRC) is a program of the Christopher & Dana Reeve Foundation that offers resources on spinal cord injury, paralysis and mobility-related disabilities. The PRC's mission is to be a comprehensive, national source of information for people living with paralysis and their caregivers to promote health, foster involvement in the community and improve quality of life. It provides quality information on paralysis in a variety of ways; through highly-trained Information Specialists who can be contacted via telephone at 800-539-7309 or e-mail; through in-person visits to its offices; or through its National Clearinghouse Library of paralysis-related publications available for free loan through interlibrary loan programs. For more information, please visit http://www.paralysis.org.
###