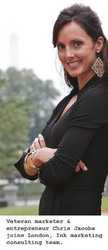 It's clear that the on-demand model works for clients as well to help them focus their budgets on the right priorities.
Potomac, MD (Vocus) September 28, 2009
London, Ink, a marketing and communications consulting and services firm headquartered outside of Washington, DC, announced the addition of Christina Jacobs to its team of marketing consultants and project managers to meet the demands of the company's growing client base.
Jacobs, whose background includes marketing management posts at Nextel, MCI and CoStar Group and AMS, is also co-founder of Girls in the Know, the popular and fast-growing online service that provides subscribers with exclusive offers from premier spas, salons, restaurants, designers and events.
"Chris has been a great addition to the London, Ink team," said London, Ink founder and President Bob London. "Not many people combine such deep practical marketing experience and expertise with an entrepreneur's sense of innovation and resourcefulness."
Jacobs provides on-demand marketing consulting, project management and implementation for a range of London, Ink clients—which supports the company's lean, on-demand business model and enables clients to receive top-notch, cost-effective marketing support.
"Working with London, Ink gives me a combination of an interesting and engaging work experience with a high degree of flexibility, schedule-wise," said Jacobs. "It's clear that the on-demand model works for clients as well to help them focus their budgets on the right priorities."
"London, Ink is already known for pioneering the 'Virtual VP of Marketing' concept which provides experienced project-based resources on-demand for organizations that need an injection of strategic marketing horsepower," continued Bob London. "Having more consultants like Chris means that London, Ink can serve a broader range of client needs with various levels, areas of specialization and price points."
About London, Ink
London, Ink is a marketing and communications consulting firm that helps early-stage and established organizations define and prioritize their products, services and marketing initiatives based on what the market needs--or doesn't need.
In pioneering the Virtual VP of Marketing concept, London, Ink president and founder Bob London works with companies who aren't ready for the cost and commitment of a full-time marketing executive to assess their market opportunity, determine the strategic options and develop a practical go-to-market plan, including market awareness, customer acquisition and retention, prospect "nurture" campaigns and targeted education programs.
Bob London has successfully managed marketing initiatives with annual budgets ranging from the $150 million network television launch of MCI Friends & Family (back when network tv really meant something) to under $25,000. His work and writing has been profiled or covered by the Wall Street Journal, The Washington Post, the Miami Herald, USA Today and Marketing News (the AMA's flagship magazine).
###