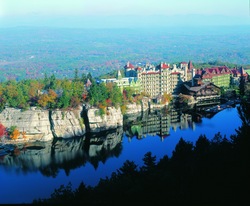 Never Diet Again: Welcoming Weight Loss and Wellness
New Paltz, N.Y. (Vocus) September 29, 2009
"Diet" has become a four-letter-word synonymous with stressful struggles and relapse. Counting calories, managing fat grams, and constructing complicated food combinations work every time… until the diet ends and the weight creeps back. Americans spend more than $60 billion on dieting every year, yet obesity rates keep rising.
Through her own personal experience and academic qualifications, including a Ph.D. in Psychology from Princeton University, Nina Smiley has created a four-day workshop titled "Never Diet Again: Welcoming Weight Loss and Wellness" to be offered four times each year at Mohonk Mountain House, a National Historic Landmark resort just 90 miles north of New York City. Smiley is also co-author of the popular book, The Three Minute Meditator and accompanying CD, "Mini-Meditations That Will Enhance Your Life" and brings a simple, yet effective, approach to enhancing wellness.
As the program progresses from Friday through Monday, Smiley will introduce meditation and visualization techniques, as well as train participants to use mindfulness for immediate feedback on whether an action has been "skillful." A personal journal given to each attendee will be used to facilitate wellness opportunities. Group meals will allow participants to share insights and get to know one another in a casual, relaxed atmosphere. The program will also address potential challenges and tackle the critical issue of Self Talk – the powerful impact that internal interpretation of thoughts and actions has on behavior. At the end of the program, each guest will have created a personal plan for wellness and weight control and will depart with new, life-changing skills. Based on a concept of "Small Successes™" that build new healthy habits, this program replaces a deprivation ("diet") model with life-enhancing empowerment.
Nestled in the Hudson Valley of New York among 2200 acres of spectacular scenery, Mohonk Mountain House offers guests the opportunity to be as active or relaxed as they want to be. Along with providing a nurturing setting for exploration and growth, the new program gives guests the opportunity to enjoy the many activities the property has to offer. There is ample free time scheduled for guests to enjoy complimentary fitness classes and activities in the award-winning 30,000-square-foot eco-friendly Spa at Mohonk Mountain House. Aqua Aerobics, Metabolic Pump, Pilates, Yoga and a new class, willPower and Grace, an eclectic fusion-cardio class, will be offered. In addition to fitness classes, guests can step out of their comfort zone to try a new sport—hiking, tennis, cross-country skiing, ice skating and more—available seasonally as part of the inclusive package price.
"Never Diet Again: Welcoming Weight Loss and Wellness" will be offered four times in 2010, with each program beginning at 4:00 p.m. on Friday and ending mid-day on Monday: January 22-25, April 23-26, July 9-12, and November 5-8. Rates start at $993 per person, double occupancy, for this three night package and include three meals daily, afternoon tea and cookies and most resort activities. Guests can choose to add the "Jump Start" spa treatment package, created specifically to help support a new lifestyle. Offered at just $550, the package includes choices of treatments including massage, exfoliation, detoxification, facials, mani/pedi, and salon makeovers.
For reservations, visit the web site or call 800-772-6646.
About Mohonk Mountain House
Mohonk Mountain House is a National Historic Landmark and Historic Hotel of America located in the Hudson Valley region of New York State, just 90 miles north of New York City. The resort is celebrating its 140th Anniversary in 2009, marking the milestone of having provided recreation and renewal of body, mind, and spirit in a beautiful natural setting since 1869. The award-winning 30,000-square-foot Spa wing at Mohonk Mountain House features 16 treatment rooms, a solarium, and outdoor heated mineral pool, along with an indoor heated swimming pool with an underwater sound system, comprehensive fitness center, and yoga/motion studio. The Spa is heated and cooled by a geo-thermal system and has a partial "green roof" and has been honored by Spa magazine as one of the best "Eco Spas" nationwide. It has also been acclaimed by Luxury Spafinder as one of the most affordable spas, and has been voted one of the "Top 25 Resort Spas in North America" by Conde Nast Traveler magazine. Mohonk's spectacular Skating Pavilion is host to special activities including skating lessons and corporate teambuilding programs. For invigorating outdoor fun, guests can enjoy 85 miles of trails for seasonal hiking, mountain biking, snowshoeing and cross-country skiing. Overnight guests can enjoy rock climbing on one of the most acclaimed cliffs in the world. The grounds feature exquisite gardens, a challenging nine-hole golf course, red clay tennis courts, and stables with horseback riding and horse-drawn carriage rides. The half-mile-long, glacial-formed Lake Mohonk is ideal for boating, fishing, and swimming. Extensive composting, recycling, and nature interpretation programs are hallmarks of the ongoing stewardship efforts undertaken at Mohonk Mountain House. Over 40 theme programs are presented annually, including culinary classes, gardening workshops, music festivals, nature programs, and more. Overnight rates at Mohonk Mountain House include charming accommodations, breakfast, lunch, dinner, Afternoon Tea and Cookies, and most resort activities.
###