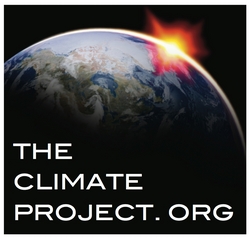 After the summit, the new TCP Presenters will return to their countries and communities ready to take on this challenge.
Nashville, TN (PRWEB) September 28, 2009
Former Vice President and Nobel Laureate Al Gore will train 300 people hailing from more the 21 Latin American countries including Mexico, Costa Rica, Argentina, Brazil, Trinidad, and Colombia to become the first Climate Project (TCP) Presenters in the region.
The summit opened today in Mexico City and will run from September 28th - 30th. Mr. Gore, along with other international experts, will train people from all walks of life to talk to their networks, peers, and communities about the climate crisis. This summit also marks the establishment of TCP Mexico in association with Pronatura, a non-profit organization headquartered in Mexico City.
Latin America is an important next step for TCP. From Brazil's Amazon and Mexico's wetlands to the glaciers of the Andes and the coral reefs of the Caribbean - the urgency of climate education and awareness in Latin America is undeniable. "The citizens of this region need to be informed about climate change and engaged in the issue," said TCP Executive Director Jenny Clad. "After the summit, the new TCP Presenters will return to their countries and communities ready to take on this challenge."
TCP Latin American Presenters will become dynamic leaders in their region's ongoing conversations about land use, energy policy, and emissions measures. They will be active participants in solving the climate crisis not just in their home country, but worldwide.
This event will mark the third TCP Summit held in just four months. Both the North American Summit in May and the Asia Pacific Summit in July played a major role in generating domestic and international momentum for TCP, which now has eight official branches: USA, Australia, Canada, Spain, the United Kingdom, India, Indonesia, and now Mexico.
To help coordinate these efforts, TCP today unveiled a new website (http://www.theclimateproject.org) where citizens around the world can learn how to get involved in their region. The site identifies where TCP has volunteers internationally and provides a way to unify TCP's growing movement.
If you'd like to host a TCP presentation in your community, please visit http://www.theclimateproject.org/presentation.php. If you're interested in requesting a presentation in Australia, Canada, India, Spain, or the UK, please visit these countries' websites, which can also be found at http://www.theclimateproject.org/presentation.php.
About The Climate Project
The Climate Project (TCP) is an international non-profit organization founded by Nobel Laureate and former Vice President Al Gore. With its global headquarters in Nashville, Tennessee, TCP's mission is to increase public awareness of the climate crisis in the United States and abroad. TCP consists of a professional staff and more than 3,000 volunteers worldwide who have personally been trained by Gore to present a version of the slide show featured in the Academy Award-winning film An Inconvenient Truth. In February 2009, TCP expanded its mission with a new commitment to advocacy and activism to combat climate crisis.
###