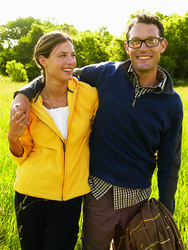 We look forward to hearing the many outside stories from our customers on Facebook - particularly, how they're wearing their new Sweater Fleece. We think of it as fleece - dressed-up
Dodgeville, WIS. (PRWEB) September 28, 2009
With fall comes cooler temperatures and the need to layer up for warmth. Sweaters are a great choice for the office, while fleece is the more casual choice for home or the gym. So this year, Lands' End introduces an entirely new option combining the best of both: Sweater Fleece. Sweater Fleece is made from knit-weave ThermaCheck® Fleece, offering both the easy care and soft touch of fleece, plus the warmth and style of a sweater.
Beginning Sept. 28, Lands' End is asking people to tell us how they wear their Sweater Fleece (and all their Lands' End cold-weather gear) on its "Outside Story" Facebook page at http://www.facebook.com/landsend. Simply click on the "Outside" tab at the top of the page.
"We look forward to hearing the many outside stories from our customers on Facebook - particularly, how they're wearing their new Sweater Fleece. We think of it as fleece - dressed-up," says Suzanne Bryant, vice president of design for Lands' End.
"We know people love the lightweight warmth of fleece pullovers and jackets, but often the styling is too sporty or casual for wearing every day or at the office. Sweater Fleece is a great option for the warmth and style of a wool sweater, plus the performance and easy care of fleece that will always look appropriate," Bryant adds.
Like a Sweater, Only Better
Available in half-zip and full-zip styles for both women and men, Sweater Fleece comes in a wide variety of heathered hues including Park Green, Iris, Dewberry, Aztec Gold and Garnet. Bryant says Sweater Fleece layers well over a T-shirt or blouse, and coordinates perfectly when worn under a down vest or heavier outerwear. Plus, the moisture-wicking property of fleece brings an added level of comfort to this everyday, versatile choice.
Easy Care that's Easy on the Pocketbook
While the classic wool or cashmere sweater is the usual standby for stylish warmth, caring for those sweaters can be costly - every time they need to be cleaned, they have to go to the dry cleaner. But Lands' End Sweater Fleece is machine washable. And since all Lands' End products are Guaranteed. Period.®, they promise to hold up wash after wash.
About Lands' End
Lands' End® is one of the world's largest retailers of clothing for the family. In addition, Lands' End offers an innovative collection of fine quality goods for the home. Lands' End merchandise can be purchased online at http://www.landsend.com, by calling 1-800-800-5800, and by visiting the Lands' End shop at Sears. Lands' End is a proud member of Sears Holdings Corporation (NASDAQ: SHLD). And, all high-quality Lands' End merchandise is Guaranteed. Period.®
EDITOR'S NOTE: Be sure to visit the new Lands' End newsroom at http://www.landsend.com/newsroom
# # #