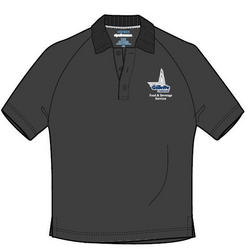 Weston, MA (PRWEB) September 28, 2009
With fall on the horizon, restaurant, hotel, and country club owners are thinking about outfitting their valets, wait staff, and front of the house employees with seasonal uniforms that can handle the changing weather and maintain a professional look while being functional. Averill's Sharper Uniforms, your neighborhood uniform store, shares some of its most popular items for all-weather wear.
Averill's Sharper Uniforms is introducing new high technology Moisture Management polo shirts. Designed to keep staff dry and comfortable, these three-button polos are great for staff working in an indoor/outdoor environment and preserve a professional, yet casual feel. These shirts are specially designed to wick moisture away from the skin and are easy to clean and maintain.
For valet staff and other outdoor employees, staying warm can be a struggle in the autumn and winter months. Windbreakers and winter jackets with your destination's logo are an effective way to keep employees dry and still have a neat, uniform look. Averill's Sharper Uniforms is now offering a full line of hospitality outerwear for valet, doormen, and outdoor staff.
In addition, Sharper Uniforms is proud to announce a new technology that offers its customers a new way to customize its off-the-shelf items. Beginning this fall, Sharper Uniforms is introducing Heat Seal technology as an alternative to embroidery. Heat Seal works by imprinting clothing with eco Solvent inks. Because logos and lettering applied with Heat Seal are imprinted and not stitched, they can be applied anywhere on an item - collars, cuffs, pocket plackets and more.
Heat Seal is perfectly suited for preserving fine image detail and color gradients in your logo, which is a superior feature to traditional embroidery. Heat Seal garments are machine washable and, with proper care, will last for years without fading, peeling or cracking.
About Averill's Sharper Uniforms
A member of the Massachusetts Restaurant Association and the VGM Club, Averill's Sharper Uniforms has been a provider of hospitality uniforms and apparel online since 2005. With a value-driven philosophy and a commitment to quality customer service, Sharper Uniforms provides the service of your neighborhood uniform store online. Connect with Sharper Uniforms on Facebook and on Twitter.
# # #