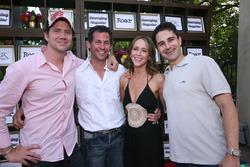 this is truly a remarkable drink.
Hollywood, CA (PRWEB) September 26, 2009
Over 100 Celebrities and Press enjoyed the festivites at GBK's Luxury Gift Lounge. They entered this Moroccan inspired lounge to music from Koffee House who featured some of their top artists and DJ SHY who was spinning the hottest tracks throughout the day. This was definitely a party not to be missed
ROAR CLOTHING was one of the biggest hits. In addition to their billboard campaign opportunity giving celebrities the opportunity to submit their charity to be highlighted in the month of October, they also gifted their 'Fresh Casual' shirts and products which exude confidence and individuality. Many of the guests couldn't wait to wear these cool shirts on the town. Co-sponsor, EMERGING MAGAZINE, brought a wide range of gifts, including a chance to go to NASCAR and drive around the track at 200 MPH, an assortment of products from Project Runway's Gordana Gehlhausen, 'The Dazer Laser', and diamond encrusted iPod ear buds; IndulgentEscapes.com, gave out the finest in luxury travel, to one of their many top resorts in Mexico and the Caribbean. Six Senses Destination Spa in Thailand hooked the nominees and presenters with: A five night stay including meals and spa services (Over $10,000 value); Danny Alex's Muscle Flex, a leading edge fitness, health and lifestyle company gifted one of a kind, one size fits all garments from their Vata Brasil Sports and Active wear line as well as a Buddy Tablet Caddy. The women celebrities in particular were extremely excited about this. To keep the healthy body alive ACAISODA.com gifted a year of their tasty Acai Soda - a soda providing energy, stress relief and weight loss.
Gavin Keilly, CEO of GBK said, "this is truly a remarkable drink." Hands down the Press and Celebrities alike were amazed with THE ONE TOUCH SOLUTION, a cutting edge A/V software program that with one finger you are able to program parental controls, audio, visual, A/C, heat, lights and security. Jamie Kennedy said, "when can I get this installed. This is really cool." Nourish, a woman-owned company that provides health and convenience products to children and their families gifted an exclusive Emmy Nourish Gift Box with various baby products, which interestingly enough even the celebrities without children were excited about; Mocks, a protective and designer socks for cell phones, digital cameras and ipods were also on site with their latest accessories.
On the fashion front, the lounge featured RANDY JACKSON EYEWEAR, gifting a cool pair of optical-quality shades or eyeglass frame from the 'Dawg' himself, Randy Jackson; Jen m was on site with her gorgeous Zen Jewelz to give a mini energy consultation followed by a gift of spiritual gemstone jewelry that connected many to their higher self; Hunter Fashion Clips had their adorable handmade hair clips designed by child entrepreneur Hunter Stevens with proceeds that benefit organizations promoting the physical, mental and spiritual development of girls; OKOBOS fitted everyone with their unique footwear gifting shoes designed to be a messenger of hope and a vehicle for change. Jennifer Love Hewitt loved the fact that proceeds from each product benefits their child-focused philanthropic organization. Audra and Daliah had their unique jewelry with a blend of handcrafted South American artisanship and contemporary design on display, which were incredibly impressive. Finally Cool Three, gifted their fashionable and functional accessories as well bags for women and girls and their 'Big Wave' professional gear for men.
On the beauty front, invited guests will also be pampered with on-site beauty treatments and beauty products from RN Factor, medicinal skin care products combining the best of nature and science as well as mini facials on site; REVITALASH, a 'favorite' at GBK Gift Lounge, was Gifting their eyelash conditioner that lengthens and thickens eye lashes, as well as their new hair product called Hair by RevitaLash, a conditioner that gives you thicker and fuller hair ($150 value each); Center for Advance Medicine gifted their extraordinary Trans D Tropin - the only natural product rubbed on your forearms that promises to be a 'fountain of youth' used by over 1800 Doctors; Lalo Fitness, gifted 3 personal training sessions valued at $450; Vivier Pharma kept attendees from getting burnt on this hot day by gifting their high quality daily moisturizing shield. IT&LY HAIRFASHION, made in Milan Italy treated guests to their Purity Design Styling Line with rich and luxurious phyto-derived antioxidants and uv inhibitors that will hydrate and protect the hair. Barbar Hair Tools gave out his designer hair tools for men and women and finallyInfinity Sun provided Infinity sun glow on the Go sunless tanning aerosol and a spray tan gift certificate.
This Year's BAZAAR FOR THE SENSES had sampling of some of GBK's top picks in cuisine and spirits including: Best Tequila, AsomBroso (also the chosen tequila for the 2009 Emmy Awards); Most unique vodka Devotion Vodka and Cognac based liquor, Alize The Best of the Best wines included Verite Wines (Best Meritage), Shafer Wines (Best Cabernet), Etude Wines (Best Californian Pinot Noir), Roco Wines (Best Oregon Pinot Noir), Talbott Vineyards (Best Chardonnay), Pahlmeyer (Best Merlot), and Illumination (Best Sauvignon).
In the food category Chosen for Best Japanese Cuisine was MVSEVM by Brian Ogawa (formerly of Katsuya by Stark and Katana) specializes in fusing five essential senses (sight, hearing, touch, smell and taste) and aims to bridge creativity by supporting homegrown artists, giving them a unique platform to showcase their work. Chosen for Best Gourmet Bites, Garden of Eating Catering & Events served a selection of gourmet hot or cold bites and sweet treats. Chosen for Best Chocolate was CHARLES GOURMET CHOCOLATES. They also gifted boxes of their gourmet artisan chocolates and while providing delicious melt in your mouth samples. Best Street Taco went to CalbiBBQ, a new more modern version of the classic Mexican taco truck fused with authentic Korean BBQ. Chosen for Best Cake was the infamous HANSEN CAKES. They served samples and displayed one of their trademark elaborate display cakes fitted to the theme. This was truly a masterpiece work of art. Best Frozen Yogurt went to Cefiore, who will be sampled their leading all natural, non-fat frozen yogurt with an assortment of toppings. Chosen for Best American Cuisine was JOHNNY ROCKETS. They were on site serving up samples of their delicious shakes and offering the nominees and presenters a VIP Card to eat for a year this American-favorite restaurant group.
The Best Luxury Tea went to FULLY LOADED TEA, a tea company that takes exotic berries full of vitamins and antioxidants and blends them with premium whole leaf green, black and white teas. A selection of teas were displayed and available for tasting. EVO took home the Best Energy Drink category, and plenty of their "positive energy" drinks (full of real, healthy ingredients), and Drench was selected as the Best New Water.
And lastly, to honor its continued commitment to charitable giving, the following charities were present to represent their mission: DONATE LIFE - A national campaign to inspire Americans to donate life by signing up on their state registry as an eye, organ and tissue donor (onelegacy.org); WHITE KNOT for Equality -White Knot for Equality is a non-profit organization formed after the passage of Prop 8 in California to educate and inform the public on the issue of Marriage Equality, engage people in the conversations necessary to change hearts and minds, and visibly show the true support Marriage Equality has (whiteknot.org); FEED THE CHILDREN - Provides food, water, medical care and hope to children worldwide (feedthechildren.org); SOMALY MAM FOUNDATION - Somaly Mam Foundation gave celebrities an opportunity to get involved in ending human trafficking and invited them to attend the second annual SMF benefit in Beverly Hills, a Night of Hopes and Dreams on Sept. 29 (somaly.org).
GBK, formerly GBK Productions, is a luxury lifestyle gifting and special events company, specializing in entertainment marketing integration. Formed in 2000 by Gavin B. Keilly, the company's Founder and CEO, GBK consists of five divisions: GBK Celebrity Gifting Lounges, GBK Events, GBK Weddings, GBK Charitable Consulting and GBK Marketing/PR. Widely known in the entertainment industry for bringing that little extra something into the Gifting Lounge environment, GBK offers its clients a full range of marketing services. For more information on Gavin B. Keilly (CEO), Carla Domen (VP) or GBK, please go to http://www.gbkproductions.com
For More Information on DONATE LIFE, go to onelegacy.org
For More Information on FEED THE CHILDREN, go to feedthechildren.org
For More Information on WHITE KNOT, go to whiteknot.org
For More Information on SOMALY MAM FOUNDATION, go to somaly.org
# # #