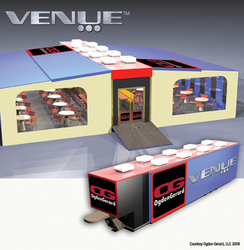 It's durable, and its versatility is endless
St. Petersburg, Florida (PRWEB) September 29, 2009
Ogden Gerard, LLC announced today the launch of its new multi-purpose specialty vehicle Venue™, an enclosed trailer that converts automatically into up to 2,400 square feet of customizable, climate-controlled space for applications ranging from entertainment, business displays, disaster relief, emergency housing and light industrial.
Venue™ multi-purpose vehicle can be towed by a fifth wheel style pickup truck, and will serve a broad range of markets, said Eric Gerard, senior partner of Ogden Gerard, based in St. Petersburg, Florida. http://www.venuevehicles.com. Buyers are reviewing Venue™ for use as: Hospitality and entertainment space; command and communications centers; emergency barracks; emergency housing, mobile studios; disaster recovery; business continuity; and trade show exhibits.
"It's durable, and its versatility is endless," Gerard said. "Anything that goes under a roof. Mobile clinics, repair stations, business training centers, press and broadcast centers, and more. Two people can fully deploy Venue™ and have it up and running in under two hours - light years ahead of tents, which Venue™ makes obsolete for most of these uses."
Ogden Gerard is contracting with sports promoters to represent Venue to professional and collegiate sports as hospitality centers for sponsors and teams, Gerard said. Venue's customized space and high-tech lighting, audio/video systems and custom graphics is easier to deploy and creates a cleaner, more desirable atmosphere than hospitality tents, which tend to be smaller and frequently lack climate control.
Beyond hospitality, Venue™ is being examined by government agencies as emergency shelters for disaster relief, and for emergency homeless shelters. Business interests with multiple locations also have expressed interest in converting Venue™ into business continuity modules to re-establish communications and customer service in the event of natural disaster or other disruptions.
In addition to its self-deploying multi-purpose capability, Venue™ is also fully self-contained, carrying all of its equipment and furnishings within the trailer, Gerard said.
"Customers from corporate sponsor hospitality users to first responders and command center users, do not have to worry if their secondary shipments and equipment will arrive on time," Gerard said. "When Venue™ arrives at a scene, whether it's a sports event or a for a trade show exhibit, it has everything it needs to get up and running immediately."
Venue will be manufactured exclusively by Frontline Communications, based in Clearwater, Florida, and a division of Oshkosh Corp. (NYSE: OSK).
"We are thrilled to have Frontline http://www.frontlinecomm.com/ on board as Venue's manufacturer," Gerard said. "Frontline has built and delivered over 1,000 broadcast, communications and command vehicles all over the globe, and are leaders in their field."
To learn more about Ogden Gerard, LLC and Venue™, visit http://www.venuevehicles.com/.
# # #