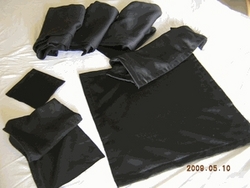 My husband doesn't travel without it.
Reston, VA (PRWEB) September 28, 2009
As the holiday season approaches, Blackout ToGo reminds shoppers that its portable blackout curtain is a great gift for the tough-to-shop-for person on your list, and our customers agree.
"This was one of his favorite gifts ever!" says Blackout ToGo customer Denise, who purchased the kit as a gift for her husband. "My husband doesn't travel without it." The kit is also hailed as "one of the best new travel products I've come across in years" by travel blogger Pilot Paul.
Light pollution, the presence of excessive artificial light, can have an impact on healthy sleep patterns. From insomnia to the impact of ambient light on light-sensitive hormones, artificial light pollution disrupts circadian rhythms, and the extent of the problem is still the subject of research. 99% of Europe and the continental United States experience nighttime sky brightness higher than the level defined as the threshold for light pollution, especially major cities like New York and Las Vegas that are active 24 hours a day.
Sleep experts recommend using a blackout curtain to prevent ambient light from entering a room via windows and gaps in blinds or curtains. However, this solution is impractical for frequent business travelers, whose hotel rooms - usually in big cities - play host to high levels of ambient light.
Blackout ToGo is a response to this dilemma - a portable blackout curtain that is suitable for both home and travel. Blackout ToGo is a kit of multiple curtains, designed to block light from windows and doors as well as televisions, clocks and other electronic devices. These panels are easy to store and lightweight so they can be carried in a suitcase or bag easily.
With an affordable price and an easy return policy, Blackout ToGo is a great gift, suitable for the 'person who has everything' on your list. The kit includes 3 12"x84" panels for windows, two 18"x18" panels, three 6"x6" panels and one 8"x32" panel to block light from hallways.
To learn more about Blackout ToGo, visit their web site.
About Blackout ToGo:
Billing itself as a low tech solution in a high tech world, Blackout ToGo was designed to stop ambient light from LED lamps and other sources from interfering with restful sleep. Follow Blackout ToGo on Twitter and read our blog for sleep news.
###