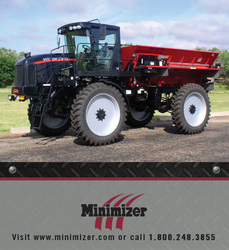 We've been using this fender for 3 years, the entire time we've been producing this vehicle. It keeps dirt, rocks and other debris away from the cab and driver. It's important safety equipment
Blooming Prairie, MN (PRWEB) September 28, 2009
Minimizer poly fenders have long proven their durability for semi trucks, but now Minimizer is marketing these products to the Agriculture Industry.
For instance, Minimizer fenders are the perfect match for the Vector 300, RBR Enterprises' high clearance fertilizer applicator.
RBR Enterprises is located in Byhalia, Mississippi. They manufacturer the Vector 300 and produce up to 60 units per year.
"The Minimizer Road Grader Series poly fender is perfect for this vehicle. We get nothing but compliments. It's light weight, priced right and is more durable than the other options on the market such as metal," said Glen Gaines, a factory representative.
"We've been using this fender for 3 years, the entire time we've been producing this vehicle. It keeps dirt, rocks and other debris away from the cab and driver. It's important safety equipment," continued Glen.
Primarily the product is sold via CASE dealerships. And it works well for agricultural coops and allows them to load the fertilizer in the field.
Minimizer poly fenders will enhance the performance and look of all makes and models of over the road trucks, construction vehicles, or agriculture equipment. Enhance your vehicle with Minimizer poly products. The toughness is unmatched as seen on this Minimizer promotional video entitled "Tested & Tortured".
To order Minimizer poly fenders find a distributor by clicking here. Minimizer poly fenders and related products are available through exclusive Minimizer distributors.
For more information or to contact a dealer, call us at (800) 248-3855 or visit our website
About Minimizer
Headquartered in Blooming Prairie, Minn., Minimizer manufactures poly truck fenders, poly toolboxes, customized truck mud flaps, and bracket kits. Family owned and operated for nearly three generations, Minimizer parent company Spray Control Systems, Inc., was founded in 1983. Minimizer aims to provide products tough enough to please tough
people in a tough industry. For more information call (800) 248-3855 or visit http://www.minimizer.com.
###