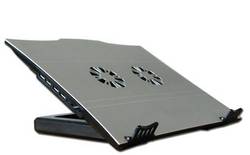 Rancho Cucamonga, CA (PRWEB) September 28, 2009
Launching in September 2009, Lapworks is pleased to announce the newest product in its lap desk and desk stand lineup, which already touts the popular Gamer's Desk and Wizard Desk Stand: The Widescreen Notebook Stand.
Designed specifically for widescreen media center notebooks, the Widescreen Notebook Stand leads the field in support and stability for the widest of notebooks. The desk is 15-3/8" long by 12" wide - the widest notebook stand currently available. The Widescreen Notebook Stand is optimized for maximum cooling with both a 1/8" thick, heat-absorbing Aluminum surface with twin cooling fans that circulate air to prevent overheating.
The Widescreen Notebook Stand's tilting base effortlessly adjusts allowing users to incline the stand into dozens of angles for maximum viewing comfort. The base tilts freely, with no releases or locking tabs necessary to hold position, making the Widescreen one of the least complicated and easiest to use desk stands on the market today.
Because Lapworks knows that connectivity is vital to laptop users, the new notebook stand also incorporates a 4-port USB 2.0 hub to connect cameras, mobile devices and more. Additional ports include a mini-USB for direct connection to the notebook, an a/c adapter port and a on-off power switch for the dual fans.
Look for the Lapworks Widescreen Notebook Stand on September 15, 2009, exclusively on the LapWorks website.
About LapWorks:
As the designers and developers of the best selling lap desks in the nation, LapWorks is proud to bring professionals, consumers and students quality Notebook Computer Stands, Laptop Desks, and gaming equipment to enhance their computer usage. In addition, products from LapWorks are ergonomically designed for comfort and feature cooling capabilities to preserve the integrity and longevity of any notebook computer. Get your Laptop Accessories and more from http://www.LapWorksInc.com.
Are you a journalist or blogger interested in a evaluation copy of the latest Lapworks products? Contact jose(at)laptopdesk(dot)net.
# # #