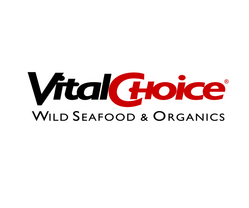 It's a real delight to be able to connect fishers operating in such a responsible manner with customers who appreciate the 'best of the best' wild salmon.
Bellingham, WA (PRWEB) September 28, 2009
Vital Choice Wild Seafood & Organics, the leading to-your-door provider of premium wild Alaskan salmon and other certified organic and kosher foods, is offering rare, "reefnet"-caught Pacific pink salmon for a very limited time.
Reefnet pink salmon is prized--by the few who've experienced it--for its exquisite taste and texture. Due to pink salmon's exceptional fragility, most is canned, making Vital Choice flash-frozen pink salmon a true delicacy. Wild pink salmon arrive in Puget Sound only every other year, so, once gone, it won't be available again until 2011.
Pink salmon are harvested for Vital Choice by reefnet rigs off Lummi Island, Wash., where fishers hand-tend the nets. The pink salmon are handled with care and flash-frozen immediately after catch to preserve their wonderful fresh-caught flavor and texture.
"The reefnet fishing tradition is very special - there are only 11 reefnets left in existence, all in the Puget Sound region. Reefnetting is a hands-on operation, the most environmentally responsible method that yields the finest quality salmon available anywhere, anytime, hands down," said Randy Hartnell, founder and president of Vital Choice. "It's a real delight to be able to connect fishers operating in such a responsible manner with customers who appreciate the 'best of the best' wild salmon."
The Vital Choice Reefnet Salmon Offer
Through Vital Choice, lovers of wild salmon now have the unique opportunity to purchase reefnet-caught pink salmon. In past years, this uncommon catch has sold out quickly, so people are encouraged to order immediately. Prices range from $64 for six skinless-boneless portions to $169 for 24 portions (shipping is free for all orders over $99). As with all Vital Choice perishable products, the Pacific pink salmon portions are vacuum packaged and shipped frozen on dry ice, ensuring fresh-caught quality for several months.
To take advantage of this once-every-other-year offer, please visit http://www.vitalchoice.com/product/wild-salmon/wild-pacific-pink-salmon.
What is Reefnet Fishing?
Reefnet fishing is one of the most eco-friendly fishing practices in the world, in which other species are released unharmed. The fishing gear consists of two small, stationary, unpowered rafts with a net suspended underwater between them. The crews wait for the flood tide, and as the migrating salmon rise up to clear the reef, spotters in the rigs' towers call out for the net to be raised. Fossil fuel use is minimal because the rafts do not move in the water once they've been positioned. Some rafts even use solar panels to power their electric winches.
The fishermen catch only a few salmon at a time, which are immediately placed into a small net cage suspended in the sea. This interlude relaxes the fish and allows time for the lactic acid in their muscles to dissipate, ensuring optimal flavor. As soon as they're ready, the salmon are plucked from the sea and placed in insulated totes full of slush ice. At the end of the day, they're ferried a short distance to shore, where they're cleaned, processed and flash-frozen to preserve their fresh flavor and delicate texture.
To see reefnet fishing in action, check out this video, created by Randy Hartnell.
About Vital Choice Wild Seafood & Organics
Before founding Vital Choice in 2001, Northwest Washington native Randy Hartnell spent more than 20 years as a commercial fisherman in Alaska. Today, Vital Choice is a trusted source for fast home delivery of the world's finest wild Alaskan seafood and organic fare. Vital Choice foods are among the purest available, and are sustainably harvested from healthy, well-managed wild fisheries and organic farms. The company's products are recognized for their superior taste and health benefits, and are endorsed by leading health and wellness experts, including physicians specializing in nutrition, pediatrics, and integrative health care.
###