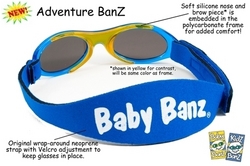 Vista, CA (Vocus) September 28, 2009
Baby BanZ Inc., launches their newest line in eye protection with their Adventure BanZ sunglasses. Clinically tested by one of the world's leading authorities on sunglasses, Baby Banz products have passed the most stringent standards on sunglasses in the world.
Baby BanZ was founded in 2001 in one of the harshest UV climates in the world: Australia. There simply aren't many baby and toddler sized sunglasses on the market, and like their parents, kids are subject to the sun too. Until the age of 8 or 9, children have no filters in their eyes to block out harmful UV light which can potentially damage their eyes. To counteract the terrorizing rays of the sun on young children's eyes and to fill this gap in the market, the people behind Baby BanZ created the ultimate product in children's sun protection with their Original Baby BanZ sunglasses.
Their new Adventure BanZ have taken the original design and added an embedded silicone nose and brow piece for added comfort. The lenses offer 100% UVA and UVB protection, high sun glare reduction, and are of Ophthalmic quality. Neoprene elastic straps reach around the head to keep the glasses in place, and come with a side adjustable Velcro closure that allows for years of wear as the child grows. The strap matches one of the 13 possible colors of the sunglasses and allows for flexibility, breathability, and comfort during use. The frame is made of shatter-resistant polycarbonate which keeps children's eyes safe. Regular lenses can be replaced with prescription ones, and can come in a polarized version.
The Adventure BanZ come in both Baby BanZ sizes for ages 0-2, and Kids BanZ sizes for ages 2-5. Kids will love accessorizing like their mommies and daddies in these sleek and sporty sunglasses! Baby BanZ is also expanding to take on the market of kids fashion with their UV protection shirts, adjustable toddler sun hats, and swimwear.
Baby BanZ won the 2009 Toy Man Award of Excellence and were the first product in the award's history to get all 5 stars in each category! Their products have been featured in magazines such as Babycouture, Better Homes, and Green Living. After making their debut in Australia, Baby BanZ came to the American market and then expanded into South Africa, Japan, Germany, China, Greece, Switzerland, France, and many more gaining success in each location. Baby BanZ is also a part of InfantSEE, a public health program that promotes a lifetime of healthy vision for all children.
For samples or additional information, please contact press(at)chicexecs(dot)com.
ChicExecs PR
1487 Poinsettia Ave Ste 125
Vista, CA 92081
760.992.9113
About ChicBlvd Inc: ChicBlvd Inc, a women-owned multi-media company located in San Diego , CA which began in 2004, includes three divisions--an online magazine: ChicBlvd at http://www. ChicBlvd.com, product development division: chicBuds Designer Electronics at http://www.chicbuds.com and a Public Relations firm: ChicExecs PR at http://www.chicexecs.com servicing over 80 Clients (sign up for Client updates at
http://www.ChicExecsMedia.com.
# # #