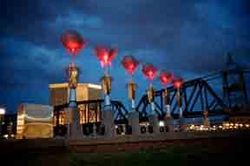 Though we are doing extremely well in light of a sluggish economy, we do recognize that we have some challenges, in particular in the gaming sector
Shreveport, LA (Vocus) September 27, 2009
Shreveport-Bossier, La. (Vocus) September 26, 2009 -- Shreveport-Bossier: Louisiana's Other Side tourism industry is strong with Louisiana's highest hotel occupancy rates, despite a drop in travel figures for many destinations nationwide.
The July Smith Travel Research report shows the Shreveport MSA leading all other Louisiana cities in hotel occupancy for the month of July with 73.5 percent. Baton Rouge's is 64.1, Lafayette – 49.6, and New Orleans – 64.6. Year-to-date hotel occupancy in the Shreveport MSA has dipped 1.2 percent from 68.9 to 68.1.
According to the Smith data, the U.S. hotel occupancy rate in July was 64.1 percent, down from 69.2 percent in July 2008. Year to date, the U.S. hotel occupancy rate was 56 percent, down from 62.5 percent from last July.
On the upside, Shreveport-Bossier's upbeat tourism market can be attributed to several factors including a new brand, strong leadership, fiscal responsibility, successful regional partnerships, strong marketing efforts and positive national and regional media attention, according to Shreveport-Bossier Convention and Tourist Bureau President Stacy Brown.
"Though we are doing extremely well in light of a sluggish economy, we do recognize that we have some challenges, in particular in the gaming sector," Brown said. "That is why we are forming a coop with all of our local casinos to reposition ourselves in the Dallas/Ft. Worth and East Texas market."
Hotel revenue has nearly doubled from 1998 to 2008. Along with the growth in revenue has been a steady increase in hotel inventory. In 1998, there were about 5,000 hotel rooms. Today, there are about 9,500 rooms. In 2009, year-to-date supply has increased by 6.3 percent and demand has increased by 5 percent. New projects on the horizon will push the number of hotel rooms past the 10,000 mark.
In a June article in the Savannah Morning News, Randall cited Shreveport-Bossier's increase in tourism over last year as a bright spot in the south's tourism outlook. The sister cities offer varied attractions, such as casinos, a steady film industry, sports and conventions. Repeat customers also are a factor, according to the article.
In a recent Visitor Intercept Survey conducted for the tourist bureau by Randall Travel Marketing, repeat visitation to Shreveport-Bossier saw a growth of 13 percent over last year's figures. In total, 87 percent of visitors are coming more than once a year.
"We find Shreveport to be an affordable destination," said Texas residents Carol and Calvin McCall. "We visit once or twice a year, for one or two nights each time."
Shreveport-Bossier's convenient location in between Dallas, Texas and Jackson, Miss. also offers the couple a midway point to meet family for birthdays and other outings.
"We also enjoy the Bass Pro and Boardwalk shopping," the McCalls said. "We have visited the shops every time we visit and find the Farmers Almanac Store and Bass Pro to be especially enjoyable."
In 2008, the tourist bureau spent more than $1.6 million on direct sales and marketing efforts to generate overnight visitation. Over and above that, the tourist bureau allocated another $329,000 for partners such as the Shreveport Convention Center, CenturyTel Center, Shreveport Regional Sports Authority, Shreveport-Bossier Film Office and funds assistance for many other local organizations.
Moreover, it also has a cooperative advertising budget in 2009 of $146,211 to help local attractions and events keep visitors walking through their doors. Sci-Port: Louisiana's Science Center, Robinson Film Center, Artspace, Barnwell, Shreveport Little Theatre and many more have benefited from the coop dollars and programs such as the spring/summer digital billboard campaign.
The tourist bureau has facilitated advertising in Louisiana newspapers for a recent IMAX program, helped the museum secure billboard advertising for programs in the early summer and, in addition, regularly splits the cost of Sci-Port's property brochure, according to Rebecca Proscino, Sci-Port's Director of Marketing and Strategic Projects.
"But the biggest help was this year when they awarded us a marketing start-up grant for our inaugural Mad Scientist Cycle for Sci-Port – a bike ride benefit to support the center that showcases rural Louisiana," Proscino said. "As a result of that extra help with marketing dollars, so far, we have over 100 riders in the first year of an event. The tourist bureau is helping us, help ourselves by giving this event a solid foundation."
Another partner that has benefited is Christmas on Caddo Fireworks Festival held in Oil City annually. Mary Dunn, organizer, said the tourist bureau's efforts help her to reach so many more people than the committee could by itself.
"Partnering with the tourist bureau has made a tremendous difference in the attendance at our event. The tourist bureau has an excellent brochure program. As a non-profit, we would not have the funds to do this alone."
The national media is turning its attention to Shreveport-Bossier and all the wonderful things happening in the area.
In 2009, Shreveport-Bossier has been featured in USA Today Weekend, the Miami Herald, the Dallas Morning News, the Houston Chronicle, Convention South Magazine, Group Tour Magazine and others.
A recent article in the Dallas Morning News (Shreveport-Bossier City has more than gambling to offer – Sept. 11, 2009) characterized the area as "Gambling, of course, is the big draw, with five riverboat casinos and a horse-racing track. But when you need a break from the slots, tables and ponies, there's plenty beyond the neon."
http://www.shreveport-bossier.org
# # #