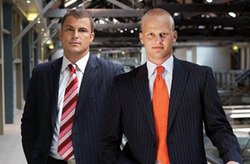 Best Luxury Real Estate Brand (Integration)
Sydney, NSW (PRWEB) September 28, 2009
At the Luxury Real Estate Awards held in Vail, Colorado Marquette Turner Luxury Homes (MTLH) was awarded "Best Luxury Real Estate Brand (Integration)", ahead of more than 1700 companies from more than 65 countries around the World.
The award is arguably one of the most prestigious to be awarded and recognizes the strength of the young brand.
The award recognizes the strength of the Marquette Turner Luxury Homes brand together with our successful integration of all the best that LuxuryRealEstate.com has to offer.
It is another wonderful leap forward for the company after winning "Most Outstanding Agency in the World Under 2 Years Old (Most Outstanding Rookie)" in 2008.
Co-Presidents Michael Marquette and Simon Turner, together with Senior Vice-President Christine Watson accepted the award at a glittering ceremony held at the Ritz Carlton Hotel, Bachelor Gulch in front of many of the best Agents and Brokers in the World.
The company had received six award nominations, more than any other company in the world.
About Marquette Turner Luxury Homes
The Australian-based luxury real estate agency is a leading user of social media in their showcasing and selling of luxury homes, estates and islands throughout the world. The company was launched two years ago by young entrepreneurs Michael Marquette & Simon Turner. The company has expanded worldwide, listing and selling properties in 5 continents.
About Luxury Real Estate
http://www.luxuryrealestate.com, a 2009 Webby Award Honoree, is the most-viewed luxury real estate website in the world. The Who's Who in Luxury Real Estate network includes 1500 of the world's finest real-estate companies with properties in more than100 countries. Participation is strictly invitation-only by CEO/Publisher John Brian Losh. The Who's Who in Luxury Real Estate network is governed by the Board of Regents, of which Marquette Turner Luxury Homes is a member.
# # #