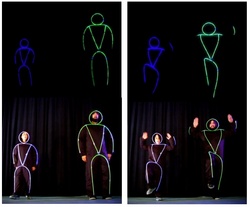 Glow is hot right now and we're seeing a lot of interest in glow themed costumes and accessories.
San Antonio, TX (PRWEB) September 28, 2009
This Halloween season, bloggers and industry insiders are predicting GlowMan Costumes to be one of the fastest growing trends in 2009/2010. "Glow is hot right now and we're seeing a lot of interest in glow themed costumes and accessories." Says Shea Fitzpatrick, owner of Screaming Frog LLC in Seattle. "People are looking for something different and GlowMan Costumes are one of the most unique costumes we've ever carried."
A fairly simple concept, this "how did we not think of this before" idea stole the show at the Halloween and Party Expo in Houston, Texas last January. Since their debut in 2008, numerous youtube videos have surfaced of people sporting their GlowMan Costumes all over the world. From Lollapalooza in Chicago, to Carnival in Spain, GlowMan Costumes are very quickly building a loyal fan base across the globe.
According to online retailer, John Prince from Extreme Glow, "Our Halloween customers love to dress up and party and nothing fits the bill quite like a costume from GlowMan. We get more positive feedback from GlowMan Costumes than from any other product that we carry."
With sales all over the US, Canada, and even as far away as Europe, GlowMan is set to have their best year ever, even in a down economy, according to Leslie Lopez, CEO of GlowMan Costumes. "Our sales have more then tripled from last year and we continue to see growth with non seasonal sales as well as with dance troops, talent shows and church groups." said Lopez. "GlowMan Costumes are great for group applications and it's not uncommon to sell 15-20 costumes at a time."
Each costume includes a black hooded jumpsuit with pre-sewn connectors and a pack of custom sized glow sticks. To illuminate the costume, the wearer simply activates the glow sticks and inserts them through the pre-sewn connectors to create one of five GlowMan designs. Within minutes, the costume design is revealed and ready to wear. Under the cover of darkness, GlowMan Costumes come to life, looking like a life size animated character! Each activation lasts approximately 10-12 hours. Glow stick refill packs are also available for purchase. Suggested retail prices for GlowMan Costumes start at $29.99.
Visit http://www.glowmancostumes.com to view GlowMan's five popular designs and be sure to watch the GlowMan dance video. It looks like animation, but they're real dancers wearing GlowMan Costumes! Check out the "store" tab for a list of online and in store retailers.
###