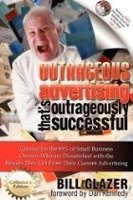 watch and share - to help save his family home
Sydney, New South Wales (PRWEB) September 29, 2009
Today it was announced on the website of internet entrepreneur, Bill Glazer that all the profits from his new book, "Outrageous Advertising" would be donated directly to the Junior Achievement foundation that is all about empowering children around the globe, to help build a better future for our planet. More info: http://www.outrageousbook.com/videocontest
JA Worldwide is a partnership between the business community, educators and volunteers -- all working together to inspire young people to dream big and reach their potential. JA's hands-on, experiential programs teach the key concepts of work readiness, entrepreneurship and financial literacy to young people all over the world.
Through the launch of Mr Glazer's new book, he is conducting a video competition with the assistance of all the Youtuber's on the planet. Bill and his associate, Mr Dan Kennedy are longtime business entreprenuers who have helped hundreds, perhaps thousands of people from all walks of life to build themselves a better future through unusual and sometimes, outrageous advertising that refuses to be mainstream or boring.
One such participant of the competition, Mr Greg Gillespie from Sydney, Australia has taken to the task of spreading the word on his video entry by using social media to send his video around the world. Part of Mr Gillespie's pitch to any and all attached to him and his family, through the cyber-tenticals of the social networking footprint, is his plea to "watch and share - to help save his family home". Being one of the many thousands to fall foul of the Global Financial Crisis, Gillespie had to give up the family home of some 19 years and has found new strength through the power of the online community to help get his business back on top.
Simply viewing and sharing the video will help him to win the competition and he believes the business connection with these two highly connected entrepreneurs could be just the thing he has been looking for in order to rise from the ashes of defeat.
The competition closes on the 30 of September 2009, so there is not a lot of time to wait to see just how far this one video can travel. The power of the connected social network can create massive reactions that can be felt globally, and here is hope to those reverberations being felt by the future entrepreneurs of this planet.
###