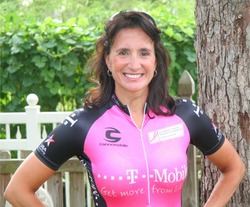 I recognized a great potential in this bicycle design
Lumberton, NC (PRWEB) September 30, 2009
Maria Parker, a 46 year-old mother of four, will be testing her endurance and a new front-wheel-drive recumbent bicycle as she attempts to set the world record in the 12-hour unfaired recumbent bicycle event on October 10th. She undertook this challenge after she not only won her first bicycle race in July, but set the course record . "I didn't even know if I could ride for 12 hours," she said, regarding her entry into the annual Saratoga 12-hour race held in New York, "but my bike was so fast and comfortable I was able to go much farther than I expected." Parker completed 211 miles on the hilly course in Saratoga during the 12-hour race.
John Tolhurst, of Perth, Australia, designed the Cruzbike Silvio bicycle that Parker rode in Saratoga. Tolhurst designs bicycles not only for recreation, but to meet transportation needs. "Ordinary bikes aren't ergonomic. Most people find them uncomfortable and won't ride them except for very short distances", he said, "Cruzbikes eliminate the pain of riding a bicycle, and put the rider in a safer position to see the road and deal with traffic issues. Too much weight born on the front of the pelvis, hands, and shoulders causes pain. Trying to achieve an aerodynamic position while keeping traffic in view requires hyperextension of the neck, another source of pain. All of these problems are solved on a Cruzbike. Compared to other recumbent designs, the front-wheel-drive design eliminates the long, heavy drive chain, and a problem called 'heel strike', where the foot of the rider can bump into the front wheel during turns."
Maria Parker's husband, Jim Parker, M.D., approves of the safe design of the Cruzbike, and states, "there are dozens of articles on health problems caused by prolonged or repetitive use of standard bicycles. Men and women riding more than a few hours per week are at an increased risk of problems. Men may get erectile dysfunction and women may develop genital numbness. The Cruzbike recumbent design does away with these problems, and the front-wheel-drive technology makes the bike fast and a great hill climber."
Maria Parker has run several marathons, but she's never been a competitive cyclist. "Two years ago, my husband and I went on our first bicycle tour. We noticed that our Cruzbike recumbent bicycles were faster than all the other recumbents, and almost all of the road bikes. Our bikes were the only recumbents that used two full-sized (700c) wheels. Many recumbent bicycles put the rider much closer to the ground. I'm not comfortable with that. I like to be up higher where I can see and be seen more easily."
Dr. Parker co-founded Cruzbike, Inc. with Tolhurst in 2006. "I recognized a great potential in this bicycle design," he said. "I'm excited about this world record attempt. What better way could there be to show how comfortable and fast these bike are? Maria is a beautiful and articulate woman, he added, "I think anyone looking for an interesting story about an amateur female athlete helping to revolutionize the bicycle world should take a closer look at her and what's she's doing. Maria has the potential to open up the world of bicycling to millions of men and women who believe that regular bikes are uncomfortable and recumbent bicycles are too slow or funny-looking to be taken seriously."
###