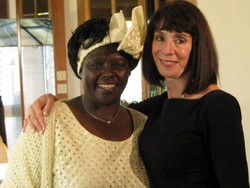 We Can Make a Difference.
Ojai, CA (Vocus) September 30, 2009
Laurel Springs School Founder and Executive Director, Marilyn Mosley Gordanier, was united with Nobel Laureate Wangari Mathai at the UNEP Press conference to celebrate the planting of one billion trees.
Mosley Gordanier first met Wangari Mathai when they both spoke at the 1992 World Women for Health Environment conference. Their paths continued to cross. Mathai was awarded the UNEP Global 500 award in 1987 and Laurel Springs won their award in 1990 for its outstanding school service programs. Mosley Gordanier was also invited to serve as the president of the UN Global 500 Forum, of which Wangari Mathai is an active member.
In addition, Mosley Gordanier and Mathai share an extraordinary love of children and a commitment to preserving the planet for future generations. Mosley Gordanier designed the online course, Kids4earth, which is offered by Laurel Springs School to children in 46 countries and endorsed by UNEP. Mathai developed the Green Belt Movement in Kenya in 1977 - a grassroots environmental organization which has assisted women and their families in planting more than 40 million trees across Kenya. At the UNEP conference Mathai is quoted as stating, "no challenge is too big to tackle to turn around climate change. We must make a fair deal for ourselves, our children and grandchildren."
Marilyn Mosley Gordaner and Laurel Springs were awarded the prestigious United Nations Global 500 Award for its outstanding school service project including the well-known environmental video, "We Can Make a Difference." In 2007, Laurel Springs was awarded the Global Leadership Award from the North American Association of Environmental Education.
About Marilyn Mosley Gordanier and Laurel Springs School
Laurel Springs School, founded in 1991, is the accredited, college preparatory American private school offering distance learning programs and teacher services for students in kindergarten through high school. Laurel Springs serves students in 43 countries and throughout the United States.
http://www.laurelsprings.com
About Wangari Maathai
Wangari Maathai founded the Green Belt Movement in 1977 - a grassroots environmental organization which has assisted women and their families in planting more than 40 million trees across Kenya. Since this time she has campaigned tirelessly for democracy, human rights and environmental conservation. In 2004, Wangari Maathai was awarded the Nobel Peace Prize, recognizing that for peace there needs to be sustainable and equitable distribution of resources.
http://www.greenbeltmovement.org
###