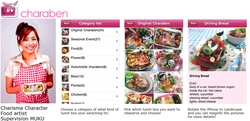 Tokyo, Japan (PRWEB) September 29, 2009
Charaben, short for character bento, is a style of elaborately arranged bento which features food decorated to look like people, characters, animals, and many more. It has grown to be a niche, but yet huge industry in Japan, and the culture is spreading worldwide. For more information, please refer to the fact book attached.
Supervised by Japan's charismatic character food artist, MUKU brings the entertaining world of Charaben (short for Character Japanese lunch box) to the app world. We guarantee your kids, and everyone will love it! Enjoy the app with family and friends, and if your up to it, try making one!
Hands-Aid Corporation
Contact : Ken Komuro
Tel : (+81) 80-3750-2103
Web: http://charaben.hands-aid.jp/en
###