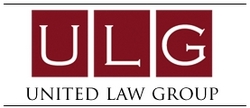 The cases we litigated showed clear violations of the terms of this law
Irvine, CA (Vocus) September 29, 2009 –-
United Law Group proved itself to be a leader in homeowner protection by handling litigation services for cases that furthered the cause for California homeowners at its own expense. Focused on compelling judges to establish precedents for California Civil Code Section 2923.5, the firm went to court on behalf of over 30 clients with expenses exceeding $1 million.
"We took on cases that had the potential to shape California law to help homeowners through this crisis," said Vito Torchia, an attorney for United Law Group. "The newly enacted laws are untested in the judicial process. By pushing the courts to review them for application in real-world situations, United Law Group is blazing the path for homeowners to benefit from the very laws that were designed to protect them."
Under CA SB 1137, California Civil Code Section 2923.5 offers protections to homeowners holding residential mortgage loans made from January 1, 2003, to December 31, 2007, inclusive. The bill requires banks and servicers to make a greater effort to explore options that avoid foreclosure.
"The cases we litigated showed clear violations of the terms of this law," said Torchia. "Unfortunately, because there has not been review of the law by the appellate courts, the judges were reticent to rule in favor of the homeowner."
Recently judges have shied away from supporting arguments that expand homeowner rights by modifying the foreclosure process. Even though 2923.5 clearly requires the courts to take additional steps to help homeowners, most deny requests to stay foreclosure or eviction proceedings pending the outcome of litigation. United Law Group has filed appeals in several cases where the firm believes appellate review will benefit California homeowners.
"We deal with people in need everyday," said Torchia. "United Law Group attorneys and staff are committed to helping individuals and advancing the homeowner protections wherever possible."
In one pro bono case, the firm covered expenses for a hotel room and transportation for a disabled client who was facing imminent eviction proceedings. After a request for a five-day stay of eviction was denied, the firm paid for transportation and shelter for this client until the individual received their disability check and could secure temporary housing.
About United Law Group
United Law Group is a national law firm with offices in California, New York, Florida, Ohio, Nevada & Arizona. The firm represents consumers in complex litigation concerning abusive banking practices, breaches of contract and violations of state and federal laws. United Law Group also litigates cases involving bankruptcy, IRS settlements and debt settlements in state and federal courts across the nation. Employing a team of top-notch attorneys, United Law Group leverages leading-edge technology to manage cases, support investigative efforts and ensure accurate, frequent communication with its clients. It puts together class action lawsuits when necessary in order to provide the best legal counsel to individuals who might not be able to resolve their issues without representation.
For further information on United Law Group, visit: http://www.unitedlawgroup.com or call Corvi Urling, Executive Consultant for United Law Group at (800) 680-5717.
###