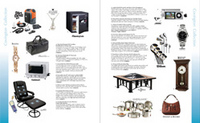 In addition to our traditional awards which include brand name electronics, household appliances, tools, jewelry, sports equipment and other lifestyle merchandise
La Porte, IN (PRWEB) September 29, 2009 -
Awards Network released their 2010 award catalog featuring over 270 brands and 15 different priced collections. The Awards Network gift catalog contains merchandise and travel options suitable for any demographic or audience and is an integral part of each Awards Network employee recognition and incentive program.
"In addition to our traditional awards which include brand name electronics, household appliances, tools, jewelry, sports equipment and other lifestyle merchandise," states Bob McDowell, Director of Sales at Awards Network, "our new award catalog also contains a wide variety of in-demand rewards including environmentally friendly items, health and wellness related merchandise and children's products."
The 15 collections in the 2010 award catalog range from $25 to $3500 and include a new price point at $200-a first for the company. McDowell adds, "We increased our award offerings by 10% in the printed catalog and over 20% in the online award catalog." McDowell continues, "The feedback we received from clients in the past year showed a high demand for more ENERGY STAR qualified appliances, exercise equipment and educational items for children to be included in this catalog."
Numerous studies have shown that brand name, lifestyle merchandise rewards are the best tools for increasing audience engagement as opposed to cash bonuses or gift cards that are generally regarded as less personal and memorable. Merchandise awards hide the cost of the gift and bestow bragging rights to recipients who associate a high trophy value with such rewards included in employee recognition and incentive programs.
"Public recognition accompanied with a brand name, lifestyle recognition award is an excellent way to thank employees for their contributions throughout this difficult year," McDowell asserts. "By thanking and recognizing survivor employees, clients will be able to end 2009 on a high note while impacting overall engagement and retention."
If you would like more information on Awards Network please contact Amy Trueblood or visit http://www.awardsnetwork.com.
About Awards Network:
Awards Network has been producing bottom line impact results for America's finest organizations with employee recognition, incentive programs, business rewards and corporate gifts for more than 50 years. We have shared our experiences with a wide variety of clients in numerous industries, each with a different challenge and unique goal. Awards Network will help design, manage and implement an employee award program built to motivate, improve performance and achieve any organization's goals. Featuring name brand merchandise and travel selections, Awards Network lets the recipient select the gift of their choice.
Contact:
Amy Trueblood
Tel: 219.324.8055
email: pr (at) awardsnetwork.com
###