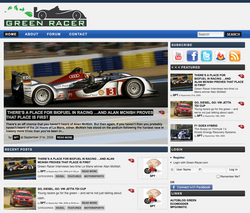 We also want to show everyone what Automotive Manufacturers are working on (now and for the future) and how it will benefit us
Gaithersburg, MD (PRWEB) September 29, 2009
On September 22, 2009, Green-Racer.com officially went live on the web. As an alternative fuel performance portal, Green-Racer.com is striving to become the top information source for performance car enthusiasts looking to learn more about alternative fuels. With oil supply becoming a big issue and environmental concerns higher then ever, new government policies are forcing automotive manufactures to shift more into alternative fuels and increasing MPG (miles per gallon) with every new vehicle produced to lower our dependence on oil and help save the environment.
This green push is a major necessity for the general consumer and the environment, but the concern amongst performance car enthusiasts will be the extinction of performance vehicles as we know it.
"Green-Racer.com hopes to be an influence in the automotive industry, not only to help remind the automotive manufactures about us enthusiasts when building their alternative fueled vehicles but to educate enthusiasts on how green fuels can still produce the performance we love today" said co-founder Ali Allage. "We also want to show everyone what Automotive Manufacturers are working on (now and for the future) and how it will benefit us", said Allage.
Green-Racer.com began its debut with three featured articles sure to peak interest. Starting with a story written by Charles Juckett, which is about the role Formula 1 has played in green technologies by using KERS within the race cars. The second story from James Tate is an interesting spotlight onto Volkswagen's Jetta TDI Cup series with background info on the specific diesel powered racer car built from a Jetta TDI. The last featured article is a special interview with Alan McNish, a two time Le Mans race winner, which focuses on his impressions on driving a diesel powered race car and his feelings on the future of alternative fuel in motorsports.
To learn more about Green-Racer.com, please visit the website: http://www.Green-Racer.com
###