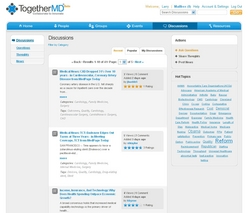 Healthcare is so complex, that together - and only together - can we accomplish our mission: to improve the delivery of healthcare across the continuum of care
Denver (PRWEB) September 30, 2009 - TogetherMD officially launched the first multi-
disciplinary, online healthcare community. It is designed for everyone in the medical field to work together to create meaningful change.
"Healthcare is so complex, that together - and only together - can we accomplish our mission: to improve the delivery of healthcare across the continuum of care," said Chief Community Officer of TogetherMD, Kevin Byrne. "I've worked in healthcare management consulting for 15 years; and it's clear to me that improving healthcare delivery requires a collective effort."
TogetherMD evaluated other online healthcare communities and found a significant need. "Currently, these other communities only cater to one discipline, and that's fine, because they are providing a different solution," he added. "Consulting with hospitals has taught me to leverage the power of togetherness. Physicians can't do it alone; hospital administrators can't do it alone; policy-makers can't do it alone; but everyone, working together, will make a difference. I know. I have seen it first-hand."
TogetherMD offers a variety of powerful tools to help members share information, including networking capabilities, groups, discussion forums, videos, podcasts, and polls. Moreover, TogetherMD will host Live Web-based events on a regular basis. "We are excited to host our first Internet event on November 5th," said Marketing Director of TogetherMD, Aaron Valdez. "Donna Shalala, the former Secretary of Health and Human Services will discuss Health Reform as it will impact hospitals. Moving forward, we plan to partner with top clinical, business, and policy leaders, and share their best practices."
Hosting events is a top priority and differentiator for TogetherMD. Members will share information using video and desktop-sharing tools. "Very soon, we will be hosting 10 - 20 events per month on TogetherMD. We see this as a huge game-changer. Now, leveraging the power of the Internet, we can share cutting-edge innovations with the world," Aaron added.
Everyone in healthcare can begin participating in TogetherMD on September 25, 2009.
###