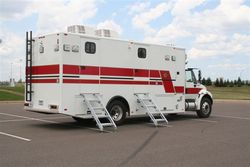 We provide the field teams for both of the nuclear power plants in Minnesota, and it is critical that we have digital communications with the State Emergency Operations Center that we can rely on
San Francisco CA (PRWEB) September 29, 2009
Icomera, the world's leading provider of cellular broadband gateways, has announced that Maple Grove Fire Department in Minnesota has chosen the award-winning Moovbox M200 to provide real-time, secure communication services on emergency response vehicles at broadband speeds. The Fire Department will take advantage of the dual redundant high-speed cellular links available in the Moovbox M200 to connect vehicles to a central command facility in the event of nuclear emergencies. The system was designed and provisioned by Icomera US distributor SinglePoint Communications of Portland, OR and included specialist public safety grade antennas and amplifiers to maximize signal quality and data throughput to the vehicles.
"We provide the field teams for both of the nuclear power plants in Minnesota, and it is critical that we have digital communications with the State Emergency Operations Center that we can rely on," said Kurt Kramer, Deputy Fire Chief at Maple Grove FD. "Our teams are responsible for the detection and sampling of radioactive materials down wind of the release in the unlikely event of a problem at the plants. As a result, we require secure and reliable VPN connections for receiving current weather data and mapping information, and maintaining a real-time wireless broadband link with the Operations Center. During a recent drill the Moovbox M200 performed flawlessly, even in areas where previously we'd not been able to acquire a cellular connection. The Moovbox provides the most rock-solid performance we've seen; it is impressive and clearly fulfils our needs for emergency data communications."
The Moovbox M200 Mobile Broadband Gateway acts as a bridge between a first responder vehicle and high-speed cellular data networks including 3G HSPA, EV-DO, WiMAX, and 4.9GHz public safety bands. The Moovbox provides encrypted Wi-Fi access for ground crews and a secure Ethernet-based LAN for connecting on-board systems such as laptops and IP-CCTV over VPN to remote facilities. In the event that one network should become unavailable, Icomera's patented SureWAN technology will seamlessly switch to the second network, thus providing redundancy for mission-critical communications. The Moovbox also has an integrated GPS receiver for real-time automatic vehicle location (AVL) and providing GPS coordinates to other on-board systems. The Moovbox M200 won Best Wi-Fi Product/Service in the 2008 Wireless Broadband Awards.
"The market for rugged, industrial-grade cellular gateways in Public Safety applications is significant," said Dave Palmer, Senior Vice President of Worldwide Sales at Icomera. "In the United States alone there are over 550,000 public safety vehicles within the fire, police and ambulance services, representing a market opportunity in excess of $800 million. We are delighted that Maple Grove FD has found our Moovbox M200 fit-for-purpose in such a demanding environment, and we look forward to expanding our business in this important sector throughout North America and beyond."
About Icomera AB:
Established in 1999, Icomera is the world's leading provider of cellular broadband gateways delivering Internet connectivity for passenger transport, public safety and enterprise applications. Our technology bridges wide-area cellular networks such as 3G HSPA, EV-DO and WiMAX with local Wi-Fi and Ethernet access. Icomera's award-winning Moovbox devices are deployed on rail, road and sea in over 22 countries providing real-time high-speed access for Wi-Fi hotspot, fleet tracking and control of mission critical on-board systems. Icomera is headquartered in Sweden with offices in the United States and the United Kingdom, and channel partners worldwide. For more information visit http://www.icomera.com.
About SinglePoint Communications:
Established in 2007, SinglePoint is North America's leading distributor of products and services that provide Internet access to the private and public transportation markets, first responders, and commercial fleet operators. SinglePoint seeks out the highest quality equipment and service providers to ensure optimal quality of service to its clientele. For more information visit http://www.your1point.com.
###