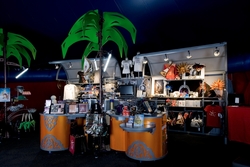 a multi-layered aesthetic in that it's modern yet futuristic and historical all at once -- similar to the ebb and flow of Cirque du Soleil performances.
(Vocus) September 29, 2009
Cirque du Soleil shows are synonymous with creative design, elegant acrobatics and unrivaled performances that meld circus with theatrical storytelling in a way that has made it world famous.
Cirque's 25-year history of classic shows have a passionate following of patrons who enjoy purchasing a reminder of their show experience at touring shows and permanent installations including everything from custom clothing, hand-crafted art, DVD's and various other manner of memorabilia. A dark blue custom fixture system based on the mechanics of road cases previously served as the display environment, however it left the merchandising and concessions space disconnected from the fantasy-like Cirque experience. Rodney Landi, vice president of merchandising and hospitality for Cirque du Soleil, recognized an opportunity to expand the performance experience into the concession and retail shop; creating a marketplace truly in sync with the brand.
"While immediately functional, we felt the existing system did not quite create the ambiance and spirit which would help to extend our patrons unique experience outside of the show."
After interviewing several design companies, Landi engaged Miller Zell, a retail design and strategy firm based in Atlanta, Georgia, to develop a concept for the retail and bistro tent. With Artful Living as Cirque's driving design concept, Miller Zell came up with the theme of "Souk du Soleil." Souk, which translates to marketplace, was the theme that led design of a retail and bistro front-of-house intended to be as theatrical and captivating as Cirque itself.
The goal for Miller Zell was to create a retail environment that delivered a complete brand experience, from concept, development and engineering through to production and implementation. The challenge, however, was devising a system for a traveling show that would be assembled and disassembled repeatedly over several months of cross-continental travel.
Understanding how to go about that required Miller Zell's design and strategy teams to immerse themselves in the culture of Cirque du Soleil, learning about touring logistics, the Cirque du Soleil brand philosophy, show themes and building a symbiotic relationship with Landi's merchandising group.
"I chose Miller Zell," said Landi, "because I was impressed by the very different design approaches they had taken on other projects, each of which reflected the objectives and specific personalities of their clients."
In addition, Miller Zell's design had to be flexible enough to adapt easily to show concepts that change annually. Keith Curtis, vice president and director of design for Miller Zell, worked intimately on the design of the project and describes the marketplace concept as, "a multi-layered aesthetic in that it's modern yet futuristic and historical all at once -- similar to the ebb and flow of Cirque du Soleil performances."
The new bistro and retail marketplace first opened during the world premiere of the "OVO" show in Montreal, Canada earlier this year. Comprised of a lightweight, nearly tool-less, kit-of-parts, it is currently traveling throughout North America with the tour of "OVO." Cirque and Miller Zell intend to adapt the concept to additional Cirque touring productions throughout the world. The team is also in the process of adapting a similar concept for various permanent Cirque installations throughout the United States.
About Miller Zell:
Miller Zell is a leader in strategic retail consulting specializing in retail design, shopper marketing, shopper insights research & analysis, and store implementation, serving some of the world's best known brands. For more than 30 years, Atlanta-based Miller Zell has designed and built award-winning selling environments across retail sectors including grocery, financial institutions, dealer-based businesses, restaurant chains, consumer products, and mass merchandise.
For more information about Miller Zell, visit http://www.millerzell.com.
About Cirque du Soleil:
Cirque du Soleil is primarily a creative content provider for a wide variety of unique projects. In addition to shows, the company, which has its International Headquarters in Montreal, extends its creative talent to other spheres of activity. While maintaining stringent standards of artistic quality and originality, Cirque du Soleil brings to innovative projects the same energy and spirit that characterize each of its shows.
Cirque du Soleil is a Quebec-based organization providing high-quality artistic entertainment. Since its beginnings in 1984, almost 100 million spectators in over 200 cities on five continents have been thrilled by Cirque du Soleil. In 2009, 20 shows will simultaneously be presented around the world. Cirque du Soleil has been the recipient of many prestigious awards, including the Emmy, Drama Desk, Bambi, ACE, Gemeaux, Felix and Rose d'Or de Montreux.
For more information about Cirque due Soleil, visit http://www.cirquedusoleil.com. To find out more about the One Drop Foundation, visit http://www.onedrop.org.
MEDIA CONTACT
Alex Davis
Marketing Communications Manager
404-526-1322
Alex.davis (at) millerzell.com
###