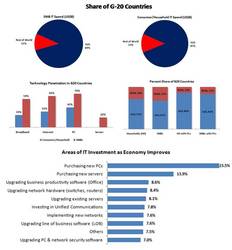 San Jose, CA (PRWEB) September 30, 2009
Small & Mid-Market Businesses (SMBs with 1-999 employees) in G20 countries are expected to spend US$435 Billion on IT in 2009. This represents a little over 89 percent of global SMB IT spend in 2009. In contrast the G20 are expected to account for 87 percent of global GDP in 2009. While 2009 has been a slow growth year with pace picking in the latter half of the year, G20 SMBs IT spend is forecast to grow by 4.5 percent in 2010 to US$455 Billion. The forecast growth rate is weighed down by the slow growth within established countries that are members of G20.
The G20 comprises the USA, Japan, China, Germany, France, UK, Italy, Russia, Brazil, Canada, India, Mexico, Australia, South Korea, Turkey, Indonesia, Saudi Arabia, Argentina, South Africa and the rest of the EU (represented by the European council president).
There are a total of 48 million SMBs in the G20 member countries that represent 67 percent of SMBs globally. The PC penetration among the G20 SMBs is 70 percent. This results in over 33 million SMBS that have at least one PC representing 83 percent of global SMBs that have a PC. Similarly, Internet penetration is 65 percent and broadband penetration is 59 percent among the G20 SMBs. However, the server penetration among G20 SMBs is only 20 percent.
In a survey of SMBs across several G-20 countries, when businesses were specifically asked which areas of IT were they planning to invest in when the economy in their respective countries improved, the following priorities emerged:
1. Purchasing new PCs
2. Purchasing new servers
3. Upgrading business productivity software (Office)
4. Upgrading network hardware (switches, routers)
5. Upgrading existing servers
6. Investing in Unified Communications
7. Implementing new networks
8. Upgrading line of business software (LOB)
9. Others
10. Upgrading PC & network security software
Similarly, there are 1,199 million or 1.99 billion households within the G20 member countries which represent 72 percent of total number of households worldwide. These G20 households are forecast to spend US$96 billion on IT in 2010 representing over 87 percent of worldwide consumer spending. The PC penetration among households within G20 countries is only 44 percent but it constitutes over 86 percent of worldwide households that have at least one PC.
About Techaisle
Techaisle is a data driven market research analyst and consulting company based in San Jose with global coverage. Focused on emerging markets and Technologies, Techaisle has pioneered a business model which is very different from traditional market research firms.
Go-to-Market strategies require an actionable data delivery solution based on aggregation, focused analytics and dynamic market segmentation. Techaisle's core premise is that data is inherently more valuable when it can be summarized, made actionable and delivered as an answer to a specific question. Techaisle provides services in five major areas:

Worldwide IT Market and Channel Partner Sizing, leveraging one of the most comprehensive opportunity sizing databases in the industry
Syndicated Research of End Users and Channels across multiple countries
Custom Market Research with strong analytical capabilities to uncover opportunity for clients
Segmentation, based on algorithms that are easily understood, easily deployable and drive actual sales and market understanding
Social media tracking, on-demand, aggregated delivery of sentiments, opinions, buzz, topics and much more from social media such as reviews, blogs, forums and news
Techaisle's blog can be read at http://techaisle.wordpress.com . For more information on Techaisle or its global products/services, please visit http://www.techaisle.com or call 408-914-2989.
###