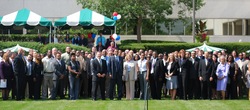 We're happy to be recognized for realizing our long standing plans to expand and diversify as a company and also appreciate the opportunity to further the discussion on issues critical to the industry
Schaumburg, Illinois (Vocus) September 29, 2009 -
Congresswoman Melissa Bean, U.S. Representative to Illinois' Eighth Congressional District, visited the offices of FMS Investment Corp. during September 2009 to discuss various industry issues with the Company's executives. The visit was coordinated by ACA International, The Association of Credit and Collection Professionals, which selected FMS to represent the industry based on the company's reputation for providing innovative and citizen-centered services.
FMS is undergoing substantial growth in Schaumburg, IL as well as Rockford, IL, where the company recently opened a new 350-seat branch. So far in 2009, FMS has created 171 full-time jobs across both the company's Illinois locations, with an additional 140 positions expected by the end of 2010.
During a tour of FMS' Schaumburg headquarters, Representative Bean received an in-depth look at the company's government collection operations, which services defaulted, federally guaranteed student loans under contract with the U.S. Department of Education. Bean witnessed firsthand the reality of a modern, technologically driven collection operation, which is a far cry from the unfounded, negative stereotype of sweatshops filled with unscrupulous bill collectors. After meeting the dedicated and skilled staff, Rep. Bean thanked FMS employees and praised their role in the recovery of federal debt while ensuring the highest standards in citizen service.
Bean and the FMS executive team also discussed several legislative issues related to financial services and business regulation.
To conclude her visit to FMS, Bean addressed and answered questions from FMS employees, many of whom are her Eighth District constituents. During an outdoor lunch, Bean fielded questions regarding the rising cost of healthcare as well as funding for special education programs and the Arts in elementary and secondary education institutions. She also detailed key aspects of the Recovery Act and how this legislation would play a leading role in turning the economy around in coming months.
Bean commended FMS' growth and the substantial number of jobs created by the Company.
"We're happy to be recognized for realizing our long standing plans to expand and diversify as a company and also appreciate the opportunity to further the discussion on issues critical to the industry," said FMS President Balaji Rajan.
About ACA International (http://www.acainternational.org)
ACA International, the Association of Credit and Collection Professionals, is the comprehensive, knowledge-based resource for success in the credit and collection industry. Founded in 1939, ACA brings together more than 5,500 members worldwide, including third-party collection agencies, asset buyers, attorneys, creditors and vendor affiliates. The association establishes ethical standards, produces a wide variety of products, services and publications, and articulates the value of the credit and collection industry to businesses, policymakers and consumers.
Media Contact: John Nemo, ACA International Public Relations Director, (952) 928-8000, ext. 124 or nemo at acainternational dot org
###