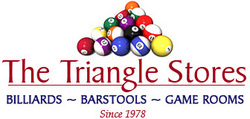 The 6 Biggest Hidden Dangers of Buying 'Cheap' Pool Tables Made in China--What You Need to Know Before Buying a Table
Orange, CA (PRWEB) September 29, 2009
Triangle Billiards, a leading billiard supplies and game room recreation superstore, today announced a 25 percent growth of its retail business, and attributes success to its Internet strategy, broad product line and competitive prices.
"Employing a comprehensive Internet strategy has dramatically increased our sales in the first half of 2009 compared to the same period in 2008 when many competitors went out of business," said Joe Fiscella, owner of Triangle Billiards.
Serving consumers throughout the U.S., the company operates from its two 5,000 square foot stores in Orange County, California--Triangle Billiards and Triangle's Game Room Gallery--offering a wide variety of products including pool and billiard tables, accessories, cues, cue cases and racks, shuffleboard, air hockey, foosball and poker tables, bars and barstools, juke boxes, darts and supplies, game room lighting, sports logo products, home theater seating, flat screen TV lifts and stands, plus repair, recovering and table-moving services. Consumers benefit from numerous in-store specials, "preferred customer specials", or they can place orders online at http://www.trianglebilliards.com.
Leveraging the Internet as a Business-Building Tool
Triangle Billiards helps savvy consumers find the products that meet their needs by displaying a vast array of product information on the company website as well as monthly specials, incentives and informative content including video and an offer for a free ebook on "The 6 Biggest Hidden Dangers of Buying 'Cheap' Pool Tables Made in China--What You Need to Know Before Buying a Table". Consumers can also enter a drawing to win a Viking cue valued at $700.
Triangle Billiards stays in touch with its customers by implementing an email marketing strategy where monthly email blasts are sent to its opt-in list of approximately 10,000 consumers with alerts on new products, promotions and specials. Social networking assists Triangle Billiards to grow an online community of billiard table and game room enthusiasts who follow the company, send blogs, chat and view video clips. Interested consumers can follow Triangle Billiards today at http://www.myspace.com/trianglebilliards. Additionally, the company is expanding its social media presence on Facebook and Twitter.
About Triangle Billiards
Established in 1978, Triangle Billiards has been voted "Best Game Store" 10 years in a row by readers of the Orange County Register newspaper. With its two retail stores--Triangle Billiards and Barstools in Orange, CA and Triangle's Game Room Gallery in Costa Mesa, CA--Triangle Billiards is known as Orange County, California's first choice for pool tables, air hockey, shuffleboard, foosball, custom cues, darts, juke boxes and many other fun products. The company is also a "Top Ten" dealer for Brunswick Billiards, the oldest and most respected name for manufacturing excellence in the billiard industry.
Contact:
Linda Andrade or Ernie Adams, Triangle Billiards
750 E. Katella Ave., Orange, CA 92867; 1+ (714) 771-5380
1844 Newport Blvd, Costa Mesa, CA 92627
http://www.trianglebilliards.com
###