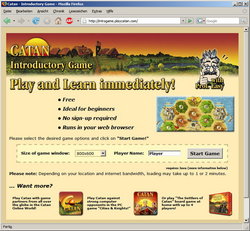 Oakland, CA (Vocus) September 29, 2009
There are some exciting new developments in the world of Catan, home of the award-winning German strategy board game, The Settlers of Catan. At the top of the list is the long-awaited arrival of Catan for iPhone. Catan players are looking forward its official release in October. Catan has also launched a free browser game, a new Online Puzzle Game, and the Catan Dice Game Deluxe Edition.
October Release of Catan for iPhone
The highly anticipated Settlers of Catan iPhone game, an exact replica of the original board game, is almost here! Intuitive controls will allow you to manage your settlements with ease – but do you have what it takes to beat the clever AI opponents? Each of them challenges you with unique tactics. A comprehensive tutorial will be included to allow those who are new to Catan to get into the game quickly. In addition, organized and in-depth stats will offer valuable insight for players of all skill levels.
Play Catan in Your Web Browser – No Sign-Up Required
The Catan Introductory Game for your web browser provides instant, free access to one of the world's most loved and famous games. Play against two virtual opponents for a fun and fast game! The Catan Introductory Game is ideal for beginners and it is a great way to introduce new players to the game.
Catan Dice Game Deluxe Edition
Catan has just released a Deluxe Edition of their popular dice game. GenCon 2009 attendees were introduced to the new Deluxe Edition at the Catan game booth. (Watch a video report from Catan at GenCon). Players had the opportunity to play with brand new colorful dice, a leather dice cup and, for the first time ever, colored game sheets. The new Catan Dice Game Deluxe Edition includes the original Catan Dice Game map as well as a new map with different rules, for a whole new Catan Dice Game experience. The Catan Dice Game™ is a fast, fun way to experience Catan on the go. Play time is only 15-30 minutes.
Catan Puzzles on PlayCatan.com
Have some fun with our new online flash puzzles, and complete to win monthly prizes. You can do puzzles to your heart's content with our initial selection of over 230 scenes from Catan and Catan-related games. Unlike other puzzles, you won't be shown the completed picture at the beginning of the game. You'll need a bit of deductive skill to put the pieces together correctly. As with all PlayCatan games, the Catan Puzzle has ranking lists too. The fastest players to assemble the puzzles will earn good ranking positions and have the best chances to win a prize!
Other new releases from Catan in 2009 include:

Artisans & Benefactors, the seventh expansion to Klaus Teuber's Catan Card Game™. The Artisans & Benefactors Expansion Set™ contains 30 new cards that can help players enhance the "happiness" of their principality's residents.
Catan Geographies: Germany. Players explore and settle the storied land of Germany using the award-winning game design from The Settlers of Catan®. Here, players will find great social interaction, simple rules, beautiful German geography, rich history and lore, and 12 wonderfully sculpted landmarks.
Catan Portable Edition. This portable edition has a solid, beautifully designed plastic game board, drop-in tiles, and plug-in roads and settlements which enable players to enjoy The Settlers of Catan® almost anywhere – perfect for car rides, coffee shops, school and more. The playing pieces peg securely into place, and all the cards and accessories fit neatly into the compact game box.
Fans can keep up with Catan and Klaus Teuber's team via their company blog, Catanism. For up-to-the-minute news, visit our Official Catan Twitter Pages, both in English (@settlersofcatan) and German (@siedlervoncatan), and our Facebook Fan Page. Fans are also invited to subscribe to the Official Catan YouTube Channel (thesettlersofcatan).
###