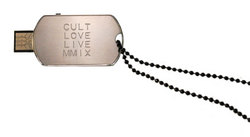 All You Need is Live
Los Angeles, CA (PRWEB) September 29, 2009 -
The Cult are giving their fans a once in a lifetime opportunity to witness one of alternative rock's most important records, LOVE performed in its entirety, live onstage. Aderra Inc. is recording select shows of the LOVE LIVE Tour and making them immediately available to fans on a custom-branded Cult USB Dog Tag. http://www.aderra.net
"Creating a capture of the LOVE LIVE tour for the fans was very important to the Cult. The LOVE record will always find a space on ipods and turntables, but we wanted to make a genuine, truly non-overdubbed live recording of this important body of work. The folks at  Aderra not only delivered quality sound recording, but an imaginative, forward thinking format of delivery. Needless to say, we are very pleased with the results." - Tom Vitorino, Manager of The Cult
 
The Cult Love Live Tour is showcasing the band's alternative roots as musicians and performers, and is sure to electrify new fans and devotees. The band is performing this seminal album in diverse venues from the grand scale excitement of London's Royal Albert Hall, to the thrill of Los Angeles' Nokia Theater, to the intimate setting of Paris', Le Bataclan. Every note of these performances is being captured by Aderra's state of the art "All You Need is Live" digital distribution platform.
"The Cult shows have been among the best we have recorded. The band simply sounds fantastic. We are also very proud of the Love Live 2009 dog tags, the engraved stainless steel embodies the band's rugged elegance." - Ed Donnelly,President Aderra, Inc. Aderra Inc. Website
In addition to concert performances Aderra Inc. has been using their Live in a Flash! Technology to instantly deliver multimedia content for Film Studios, Conferences, Sporting Events and Charities. Aderra's expertise in the field of content delivery is gaining a foothold in countless markets driving users to targeted information and online destinations to expand their horizons.
The Cult
http://www.thecult.us
About Aderra
Aderra Inc. provides an innovative way to capture the "once in a lifetime" experience of live shows, sporting events, conferences, government and public assemblies and immediately deliver it to fans or attendees after the event. Aderra is on the cutting edge of content delivery with the use of their "Live in a Flash"™ USB technology.
For more information, visit http://www.aderra.net.
Trademark ownership is indicated by the symbol ®, however, for the sake of brevity it is omitted during the story.
Contact:
Julie Wexler
Vice President - Aderra Inc.
800.430.8189
###