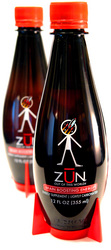 We are honored to be carried by Kum & Go
Boulder, CO (PRWEB) September 30, 2009
ZUN, an emerging pioneer in the Energy-Plus drink category, has today announced an agreement with the Iowa-based Kum & Go to sell ZUN's 12 oz. lightly-carbonated Brain Boosting Energy™ drink across the Rocky Mountain region and Midwest store locations.
ZUN is an energy hybrid with a powerful, proprietary formula that includes Co-Enzyme Q10, Ginkgo & Choline to promote sustainable energy and mental focus. ZUN is also packaged in the most eye-catching, patent protected bottle on the market -- the ZUN Rocket.
"ZUN has seen unprecedented market acceptance in its home region with incredible velocity, outselling local and national brands," says Richard Ginther, Category Manager, Kum & Go. "Kum & Go prides ourselves on finding innovative, exciting brands for our consumers, so we are very pleased with the ZUN products."
Since the first station opened on September 1, 1959 in Hampton, Iowa, Kum & Go has grown to more than 430 stores in 12 states throughout the Midwest -- becoming the 22nd largest c-store chain in the United States. Thanks to the efforts of its more than 3,600 associates, Kum & Go continues to strive for excellence in customer service and convenience -- serving more than 360,000 customers on any given day.
"We are honored to be carried by Kum & Go," says Brian Stearns, Founder & CEO of ZUN. "We believe ZUN will make a great product addition to their line up and their ability to distribute across such a large area of the US is a big win for us."
About ZUN:
ZUN by Fuzzee Bee Beverage is an Energy-Plus beverage that delivers instant and sustainable energy with added nutraceuticals for improved memory and focus. A pioneer product and brand ZUN has had 2 ½ years of R&D with intensive product development secured multiple patents, trademarks and a proprietary formulation. ZUN is first to market with Brain Boosting Energy™ delivered in the world's first carbonated rocket bottle and has gained early pre-launch market acceptance. Recently joining ZUN's board of advisors is Lance Gentry former IZZE executive, and Sam Simpson, former Stewarts Beverage CEO. Visit: http://www.zunenergy.com
About Kum & Go, L.C.:
Founded on exceptional customer service, Kum & Go is a pioneer in the convenience store industry. The family-owned company began in 1959 in Hampton, Iowa, and has grown to more than 430 convenience stores in 12 states (Iowa, Arkansas, Colorado, Minnesota, Missouri, Montana, Nebraska, North Dakota, Oklahoma, South Dakota, Wyoming and Wisconsin). Thanks to the efforts of its more than 3,600 associates, Kum & Go convenience stores continue to lead the industry in customer service and convenience. In addition to a wide selection of products, Kum & Go provides customers a proprietary mix of products under the well-known Hiland brand name. Other proprietary product offerings include Java Ridge Premium Coffee, Napa Creek and Sea Ridge wines, Go Fresh Market sandwiches and Nuclear energy drinks. Kum & Go has maintained 50 years of dedicated community commitment, each year returning at least 10 percent of its profits to the communities it serves. Kum & Go is the 6th largest privately-held convenience store chain in the United States. For more information about Kum & Go, visit http://www.kumandgo.com.
###