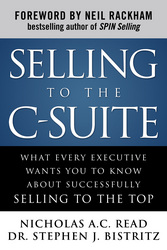 the business world's own Oscars
Atlanta, GA (PRWEB) September 30, 2009
SellXL®, a global sales training and consulting firm, announces the publication of Selling to the C-Suite, an insightful new book, published by McGraw-Hill. The book can be purchased from Amazon (Kindle version available), Barnes & Noble and Borders (Hardcover, $27.95). http://www.sellingtothec-suite.com
Selling to the C-Suite delivers proven solutions for achieving sales success in today's internet-driven, recessed market. The book is based on in-depth interviews with over 500 senior executives from diverse organizations around the world talking about their personal relationships with professional salespeople.
Honest and surprising, Selling to the C-Suite is co-authored by sales veterans Stephen Bistritz, Ed.D., founder of SellXL®, and Nicholas Read, president of SalesLabs. Their work is the culmination of over 10 years of research and work in the field.
Why Now?
Neil Rackham, best-selling author of SPIN Selling, writes in his Forward to Selling to the C-Suite, " The business world is drowning in a flood of sales books. The trouble is that most of these books are about how to sell, without a clue about how customers buy . . .This book is different. It is firmly rooted in how people buy and so it works."
"Selling to the C-Suite comes at the right moment. There are three intersecting factors that put this book in the center of a perfect storm: 1) the Economy in Crisis 2) the New CEO Role and 3) the Value Creation Imperative."
What People Are Saying
In addition to Rackham's Forward, Selling to the C-Suite has earned written praise from 45 highly respected people at organizations such as McKesson Pharmaceutical Group, Cisco Systems, and R.R. Donnelly, to name a few: http://www.sellxl.com/index.php?pr=What_People_Are_Saying
Two Key Findings:

To sell or not to sell. Leaders at the highest corporate levels do not always avoid sales pitches; in fact, they welcome them - provided the sales professional uses the right approach. Selling to the C-Suite reveals the 21st Century sales techniques CEOs react best to, as well as those that should be avoided.
Selecting the right executive is key. The need to identify the relevant executive for each sales opportunity is essential, but in today's complex organizations, how do you know who that is? The relevant client executive is defined as the executive who stands to gain the most or lose the most as a result of the application or project associated with the sales opportunity. Selling to the C-Suite provides details of how to identify and align with the appropriate decision maker.
VIDEO CLIP: Dr. Stephen Bistritz on "Defining the Relevant Executive" http://sellxl.com/media/bistritz05.wmv
Dr. Stephen Bistritz to Present and Sign Books at Upcoming SMT Conference
Dr. Stephen Bistritz will discuss, "Cultivating Client Loyalty through Executive Selling," at the Professional Society of Sales and Marketing Training Conference on Thursday, October 15 in Orlando, FL. Dr. Bistritz will also sign books during the event. This year's conference theme is "Developing Sales Excellence in a Challenging Economy." http://www.smt.org/events.html
Book Companion - SellXL® Workshops
Many of the principles in Selling to the C-Suite are taught in this compelling workshop series, Selling at the Executive Level (SellXL®), which was introduced in 2003. Since that time, thousands of salespeople in companies around the world, from start-ups to global enterprises, have been trained in these proven techniques. http://www.sellxl.com/Workshops.php
About the Authors
Stephen J. Bistritz, Ed.D. has more than 40 years of high-tech sales, sales management and training management experience. He is a published author and lecturer in the field of sales, sales management and selling to executives. Steve spent more than 27 years with IBM in sales and training-related positions. He then worked for a sales training company where he led the development of sales training programs which were delivered to tens of thousands of salespeople worldwide. Steve holds a doctorate in human resource development from Vanderbilt University, which he received in 1995, and is president and founder of SellXL, a global sales training and consulting firm, based in Atlanta. Visit his website at http://www.sellxl.com
Nicholas A.C. Read is president of SalesLabs, which helps companies drive predictable and repeatable revenue growth through the application of improved process, measurement, and skills. In 2005, he was awarded Winner of the Best Sales Trainer category in the International Business Awards, an annual awards show that has been dubbed "the business world's own Oscars" by the New York Post. He splits his time between North America, Asia, and Europe.
About SellXL®
SellXL® is a global sales training and consulting firm that delivers workshops around the world. The company was founded by Dr. Steve Bistritz, in 2002 who is a recognized author and lecturer in selling at the executive level. SellXL® workshops give top sales professionals a competitive edge in selling high-value products and services at the highest levels of client organizations. Already delivered to thousands of salespeople around the world, SellXL® workshops are based on more than 10 years of rigorous research and proven best practices. http://www.sellxl.com
Media Contact:
Elizabeth Fairleigh
thE Connection, Inc.
404.874.4562
LinkedIn: http://www.linkedin.com/in/elizabethfairleigh
Twitter: http://www.twitter.com/efairleigh
http://www.econnectionpr.com.
###