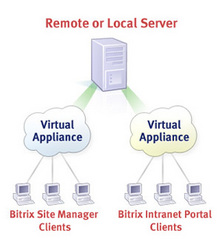 Alexandria, VA (PRWEB) September 30, 2009
Bitrix, Inc., one of the world's leading content management system (CMS) developers, releases its new and free Bitrix Virtual Appliance v1.3. The product uses the technological idea of Cloud Computing and represents an absolutely new generation of software-plus-service solutions. The company changes its traditional way of how a software product could be delivered to a customer, pacing up with the new trends of Cloud Computing. The Bitrix Virtual Appliance offers easier installation and deployment and more importantly - enhanced productivity both for Bitrix software products and for other PHP applications.
The Bitrix Virtual Appliance is a complete and fully configured platform that has been developed both for Bitrix software products and for other PHP applications ultimate use and testing purposes. Not only does the implementation of a Virtual Appliance save time traditionally spent on system configuration, but it is also absolutely safe and reliable because of the virtual environment security configuration. Using the Bitrix Virtual Appliance greatly reduces the maintenance costs while its structure always remains intact and configured wherever it is deployed.
Being a responsive B2B company, Bitrix, Inc. has realized the concept of a more effective data transfer. The Bitrix Virtual Appliance allows you to relocate your web site project from one server to another leaving the whole structure intact and not requiring you to do any additional tune-ups for the new server environment. There is also no need to care much about hardware or software compatibility, it always remains set up and configured wherever you want it to migrate! That all means a huge reduction in maintenance costs.
"We have developed the Bitrix Virtual Appliance to simply be able to 'wrap up' huge data amounts into a virtual space and transfer it as single unit preserving all its settings and functionality. Websites deployed in a 'virtual machine' show far better performance compared to a common hosting server or on-premise software installation. Also, the Bitrix Virtual Appliance is really an ideal innovation for hosting providers - now they can offer a ready-to-use PHP-platform containing a Bitrix product. Our CMS and Intranet Portal now have their own clouds to float in." - said Dmitry Valyanov, Bitrix, Inc. president.
Of course, using a virtual appliance means that it has to be hosted somewhere. The Bitrix Virtual Appliance is not an exception from the rule. That is why Bitrix, Inc. is seeking new hosting partners who are willing to cooperate and develop this business idea by offering their client the Bitrix Virtual Appliance. It is really a perfect tool for PHP application renting services, that can be offered on pay-as-you go pricing and monthly plans basis. The Bitrix Virtual Appliance is free for download and use both for our partners and for end-users. All you have to do is just go to the Bitrix, Inc. official web page, download the Bitrix Virtual Appliance, and run it in the VMware player.
About Bitrix
Bitrix, Inc. specializes in development of highly secure content management systems (CMS) and Intranet Portal solutions. Bitrix, Inc. was established in 1998 by a group of IT specialists and now it holds a leading position in the Web development market offering reliable and high-standard solutions to its clients and partners. The company's best-known software products include: Bitrix Site Manager, Bitrix Site Manager ASP.NET and Bitrix Intranet Portal.
###