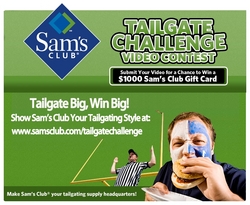 Bentonville, AR (PRWEB) September 30, 2009
http://www2.samsclub.com/tailgatechallenge
It's Simple - Upload to win
With college and professional football season well underway, Sam's Club the ultimate destination for all game day needs, is offering sports fans the chance to win a $1,000 gift card by showing off their tailgating techniques and spirit. Enter the Sam's Club Tailgate Challenge Video Contest for a chance to win and use the $1,000 gift card toward a big screen high def TV, outdoor grill or to treat family and friends to a game day tailgate feast.
The rules are simple (Please visit http://www2.samsclub.com/tailgatechallenge for full Terms and Conditions of Contest):

You must be 18 or older to submit a video.
The video must take place at a tailgate party and should be no longer than 60 seconds.
Any videos that are considered crude or disrespectful will be disqualified.
Video Submission dates run from September 18th, 2009 to October 11th, 2009. Final 5 Selection will be October 12th, 2009 - October 16th, 2009. Voting dates run from October 17th, 2009 to October 30th, 2009.
Submit a video today in five easy steps:
Step 1. Shoot, edit and upload a 60-second video to YouTube.
Step 2. Copy the video URL from YouTube once you have successfully posted it.
Step 3. Visit http://www2.samsclub.com/tailgatechallenge and click on the "Submit Video" tab.
Step 4. Paste the YouTube video URL into the top field, being sure to fill out the rest of your entry information.
Step 5. Click "Submit".
That's it! Once submitted, your video will be in the running. All video submissions will be judged by a panel of Sam's Club judges, who will be judging the videos on the following criteria:
1. Is the video engaging and appropriate? (i.e. is it interesting to watch without being rude or vulgar?)
2. Is the video creative and original? (Hint: Surprise us with a creative new spin on tailgating!)
3. Is the video tasty? A great tailgating menu will score big points with our judges. Make our mouths water! (We promise we won't give away your secret tailgate sauce recipe!)
Good luck! http://www2.samsclub.com/tailgatechallenge
Please direct all inquiries to:
Kristy Reed
479-277-7021
###