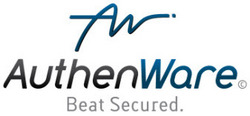 As escalating concerns regarding H1N1 reach critical mass, governments across the globe rely on electronic networks to arm the public with up-to-date information
Miami, FL (PRWEB) September 30, 2009
Authenware, a leading keystroke dynamics developer, today announced a landmark partnership with the Ministry of Health in Spain, providing the agency with software-based biometric protection for its federal employees. Calculating intrinsic behavioral typing patterns to authenticate users, Authentest will ensure ministry officials are able to securely access databases and applications from their headquarters or remotely, if necessary.
"As escalating concerns regarding H1N1 reach critical mass, governments across the globe rely on electronic networks to arm the public with up-to-date information," said Tom Helou, President of AuthenWare. "All too often, however, electronic communication channels are at risk of collapse due to infected computer systems. As in health care, the best vaccine for cybersecurity is prevention. We look forward to working with the Ministry of Health to add that critical preventive layer to their IT infrastructure."
Under the agreement, AuthenWare will supply Spain's Ministry of Health with its product, a state-of-the-art authentication technology that grants or denies access to the federal agency's network according to the rhythm and cadence with which a username and password are typed. Additionally, the software will consider typical times of operation, tab-mouse behavior, time zones, and numerous other heuristics to ensure it is the authentic user, even if accessed from an off-site location.
"As we bolster our electronic infrastructure in preparation for the upcoming flu season, we are confident in the security archetype provided by Authenware's keystroke biometric software," said Juan Munoz, senior manager at Spain's Ministry of Health. "With a renewed ability to securely access ministry applications, we can operate with increased mobility, augmenting our internal capabilities to adapt in real time to evolving conditions."
Neoris, a global IT consulting firm, participated as a liaison between the parties throughout the contract acquisition. "AuthenWare extends its deepest gratitude to Neoris for offering their confidence and support to our team throughout this process. We are honored to partner with such an esteemed organization," said Helou.
About AuthenWare
Headquartered in Miami, AuthenWare is a leading innovator of keystroke dynamics software. Its identity authentication product recognizes valid users by calculating the unique rhythm and beat with which the typist keys in data (i.e. their username and password) on their computer keyboard. AuthenWare evaluates this information along with behavioral and environmental characteristics to keep hackers out and let authorized personnel in. The company provides its security product and services to customers spanning international borders and business sectors, across a wide variety of industries such as financial services, government, transportation and logistics, manufacturing, and retail.
For more information or to request a demo, please visit our website at http://www.authenware.com.
# # #