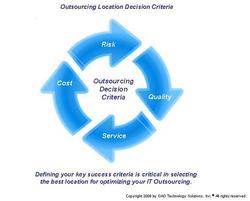 The Onshore Advantage: A Guide to Evaluating IT Outsourcing Options.
Greenbelt, MD (PRWEB) September 30, 2009
OAO Technology Solutions, Inc. (OAOT), a global leader in managed Information Technology (IT) solutions, today announced a web-based, downloadable white paper titled "The Onshore Advantage: A Guide to Evaluating IT Outsourcing Options."
The principles of onshoring are fundamentally the same as offshoring, with each model leveraging labor arbitrage to derive cost savings. Acquiring labor in lower-cost wage areas is the catalyst that drove IT outsourcing to destinations such as India, China, Eastern Europe, The Philippines, Brazil, etc. However, in recent years, inflation, labor turnover, increased cost of living and business taxes have overtaken the original business case associated with these locations and the anticipated benefits have not been fully realized.
When considering changes to an outsourcing model or evaluating outsourcing for the first time, it is important to assess a number of outsourcing options. The advantages of outsourcing to lower-cost wage areas within the United States and Canada include proven service delivery with reduced risk, more predictable costs, higher quality and increased productivity. Below are four key criteria that comprise the critical decision-making framework for evaluating the onshore IT outsourcing option:

Risk - transparency in governance, trade agreements and cross border business continuity
Quality - stable social, political, environmental, civil infrastructure and security practices
Service - exceptional support based on similar business culture, time zone, language and education
Cost - predictable cost of living, negotiable exchange rates and access to skilled staff and resources
"Over the last decade, there has been a significant focus on outsourcing and offshoring critical Information Technology (IT) functions using a variety of outsourcing models and global locations," stated Sid Fuchs, president and CEO of OAO Technology Solutions, Inc. "Today, geographic location is more critical than ever to ensure that our customers achieve their corporate goals by leveraging strategic IT outsourcing."
"Based on a number of offshoring concerns, North American-based outsourcing locations provide a robust civil infrastructure, access to skilled resources, lower security risk, similar time zone access and comparable business culture," said OAOT Chief Technology Officer Cameron Chehreh. "OAOT Canadian offices in Toronto, Ontario and Moncton, New Brunswick, meet a variety of financial and business case objectives without the risk of what is referred to as the 'hidden costs' of offshoring."
To download the whitepaper, visit http://www.oaot.com.
About OAO Technology Solutions, Inc.
OAOT (http://www.oaot.com) is a global leader in Managed IT Services and Solutions to Fortune 500 corporations, global outsourcers and government agencies. The Company's global expertise includes application outsourcing, data center and infrastructure management and staffing solutions. Headquartered in Greenbelt, Maryland, our 1,600 worldwide employees are located throughout the United States, Canada and Europe.
Copyright 2009 by OAO Technology Solutions, Inc. ® All rights reserved.
###