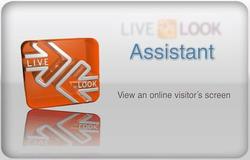 Retail CIOs: Prepare for Retail 2020
Newark, NJ (PRWEB) October 7, 2009
Today at the International Customer Management Institute (ICMI), ACCE convention in Las Vegas, NV, LiveLOOK, Inc., a leading provider of live online help Co Browsing tools to improve the online customer service experience, announced the availability of LiveLOOK Assistant. This is the first product to show a pop-up screen that proactively asks an online customer if they would like to "click-to-show" their screen to a live support contact center agent. A 'yes' response allows company reps to instantly screen share and view customers' screens in real time.
"LiveLOOK Assistant provides inside sales teams and contact center reps a Sales 2.0 level of sophistication in proactively handling inbound sales prospects," said Anneke Seley, Co-Author of Sales 2.0, Founder/CEO Phone Works, a professional services company that has helped 350 clients design and implement successful sales strategies. "Because pop-ups appear on the customer's screen when he or she may be having trouble navigating a company web site or placing an order, it gives companies service flexibility and substantially increased closing rates, while reducing customer abandonment. LiveLOOK Co Browsing enables innovative Sales 2.0 practices that make selling more effective and efficient for both the seller and the buyer."
According to an independent report by Forrester Research, Inc.,"Retail CIOs: Prepare for Retail 2020" (August 2009), "They (Retail CIOs) should also consider the value of co browsing between advisors and consumers who are too busy to actually come to the store by using technologies like LiveLOOK."
Vastly Improved Customer Service:
Many customers and call centers have already benefited from using LiveLOOK products and services, resulting in dramatically shorter call-handling times and greater first-call resolution. All LiveLOOK co browsing and screen sharing products work in 10 seconds or less, because they operate at the browser level and do not require time-consuming software downloads or the need to bypass firewalls and security systems.
LiveLOOK Assistant provides an added level of customer service because a customer is contacted at the exact time when he or she is having difficulty or making a buying decision. This co browsing software enables call center reps to establish more personal relationships with their customers to help them make educated decisions, while allowing customers to still feel in control throughout the process. It also lowers the cost of sales and online support, because call times are shortened significantly when reps can see customers' screens to assist in the buying decisions or troubleshoot problems, instead of merely talking about them.
Founded in 2006, LiveLOOK, Inc., is a leading provider of live online help and customer interaction tools that enable companies to use Sales 2.0 tactics to meet customers' changing communication needs. LiveLOOK products establish instant visual connections between customers and sales/service staff to allow reps to view customer screens in real time while simultaneously communicating via phone or chat.
LiveLOOK Assistant and LiveLOOK Co-Browsing are registered trademarks of LiveLOOK, Inc. in the United States and/or other countries.
For more information, press only:
Linda Ziemba, 732-960-9680 x802
Bill Amirault, 732-960-9680 x807
For more information on LiveLOOK Assistant:
http://www.livelook.com
###