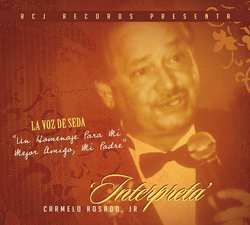 Los Angeles, CA (PRWEB) October 1, 2009
Carmelo Rosado Jr. recently released his second album, Un Homenaje Para MI Mejor Amigo, Mi Padre (A Tribute to My Best Friend, My Father). This new, all original music CD was mostly written by his father, Don Carmelo Rosado Sr. (a well-known musician and composer of Latin music) with the exception of two tracks. The CD has both Latin and Mexican Ranchero Twists. It is available for downloading on iTunes and MyMusicSite.com.
One of the most raved about tracks, "En Mi Viejo San Juan," has an introduction sang by Rosado Jr. at just age 10, when his musical career had just begun. En Mi Viejo San Juan is a famous Puerto Rican song first famous in the late 50s and early 1960s by Javier Solis. Rosado Jr. rearranged the song and added an emotional introduction to make it his own.
Rosado Jr.'s career began at the age of 10 with performances with Latin music artist Daniel Santos, Rene Rene and Vicentico Valdez. He is also well know for his appearances on television in Puerto Rico in programs such as "HaHa HeHe HoHo con Agrelot" and did one of the original voice overs for the first GAP clothing line commercial. Rosado Jr. recorded nearly 24 songs by the age of 12 and now is back to wow his old fans again as well as create new ones nearly 40 years later.
For authentic Latin music infused with beautiful melodies and arrangements, Un Homenaje Para MI Mejor Amigo, Mi Padre (A Tribute to My Best Friend, My Father) is a must have Album. The artist simply says that he "wants to share his love for music and devotion to his craft with others. And if this renewal musical adventure hits some high notes, so much the better."
"The vocal style is elegant and performed with a solid layer of experience" Taxi
To download his music, visit http://www.mymusicsite.com/carmelorosadojr or visit his official website at http://carmelorosadojr.com
###