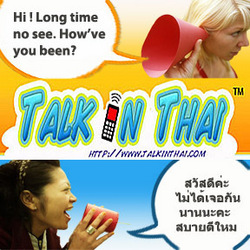 The Language barrier is the number one cause of misunderstandings between foreigners, and Thai people
Bangkok, Thailand (PRWEB) October 13, 2009
Foreigner care interpretation services (FCIS) introduces the new over the phone English Thai instant phone based translation service under the brand "Talk in Thai". The services main objective is to focus on English speaking visitors in Thailand, who seek immediate help in language translation. The translation will be exchanged through the customers' mobile phone by Talk in Thai's qualified translators, who have experience living abroad and have a better understanding of both Western, and Thai culture.
How it works:
FCIS Phone cards are very simple to use because it is just like making a regular phone call. The only difference is that there are two extra steps. First, you must dial one of the access numbers from your phone card. This allows you to reach a translator leading to the second step which is to explain to the translator your issue. The final step is to give your phone to the local whom you are having a conversation with.
The service is useful and can be a saving grace for problems that may arise when traveling to Thailand, such as:

Cultural etiquette
Emergences, such as, a vacationer on a rental being pulled over by police for speeding.
Issues that seem so mundane like directions, the time, how to use the local transportation services
Social situations: i.e. asking someone on a date
These are only a few examples of how our services can assist you. As a traveler, keep in mind that everything you take for granted isn't available overseas due to the language barrier. Our goal is to help our customers in any situation where communication is crucial.
"The Language barrier is the number one cause of misunderstandings between foreigners, and Thai people," said Ekarat Sarathana, the founder of Talk in Thai. "I based our services on past personal experiences when I used to help out my foreign friends who wanted to retire in Thailand. I witnessed first hand the problems they encountered because they couldn't communicate."
Having Talk in Thai services with you while you are in Thailand is much like having a trusted local friend. A friend who can communicate for you with anyone at anytime.
Cost of the service is based per minute. Starting from November 1st, there are 3 promotional calling plans to choose from. SPECIAL- Until the end of 2009, signup for anyone of these plans and instantly receive an extra 10 minutes translation credit for absolutely FREE of charge.
Sightseeing: 30 Min.* for 25USD
Adventurous: 50 Min.* for 45 USD
Residential: 70 Min.* for 65 USD.
*An extra 10 minutes translation has already been applied.
The service is open 24 hours a day 7 days a week, and at the moment, the service is only available for English speaking customers, but the company is expected to expand the language selection to serve broader range of customers in the middle of 2010.
###